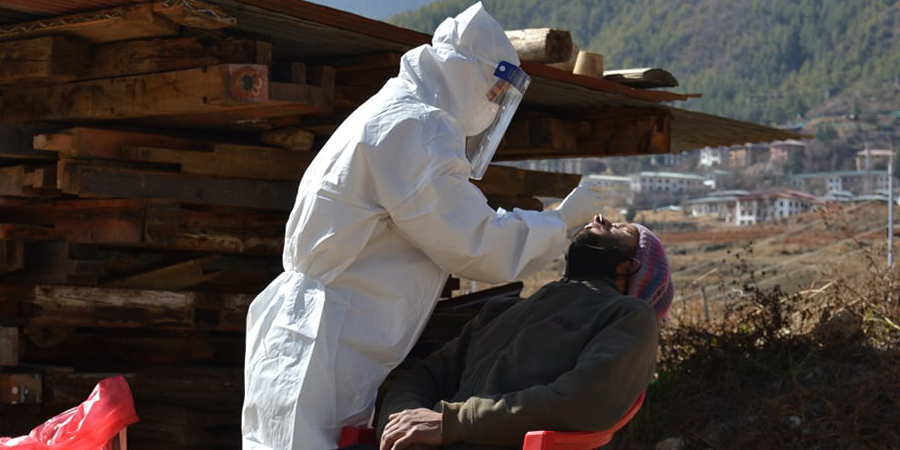 The three-day mass testing for the Thimphu thromde started today from the North Mega Zone. More than 6,500 samples were collected today. The results will be out tomorrow. According to a member of the Technical Advisory Group, mass testing is being carried out considering the high risk of transmission in the capital city.
The testing for Core 1 and 2 Mega Zones will be done tomorrow. 35 teams comprising health workers and DeSuups conducted the tests in 15 zones under the North Thimphu Mega Zone. An individual from every alternate household was tested.
Speaking live on BBS yesterday, Health Minister, Dechen Wangmo, said the tests will help break the chain of transmission in the district.
"In terms of inclusion criteria of who should come, we are requesting the most mobile person or someone who is symptomatic or someone who is unvaccinated must come forward for testing."
However, individuals who have been tested three days ago from the test this time, children below five years, and people who have recently recovered from COVID-19 will not be tested.
The country witnessed more than 1,500 COVID cases in just two weeks, significantly higher compared to previous lockdown cases proving the higher transmissibility of the Omicron variant. The Health Minister said similar tests will also be carried out in other districts.
"All the colour-coded districts will undergo testing for the transitional phase. The sample size will vary depending on what stage of the disease that particular district is in. So, if you are in red, we might do a more aggressive sampling compared to if you are in green. That is the overall strategy of testing."
In Thimphu, the movement has been limited to the Zones. Earlier, people were allowed to move within the Mega Zones. Shops will have to remain closed if tests are being carried out within the Zone.
The health ministry plans to test more than 15,000 individuals in three days.
Kinzang Lhadon