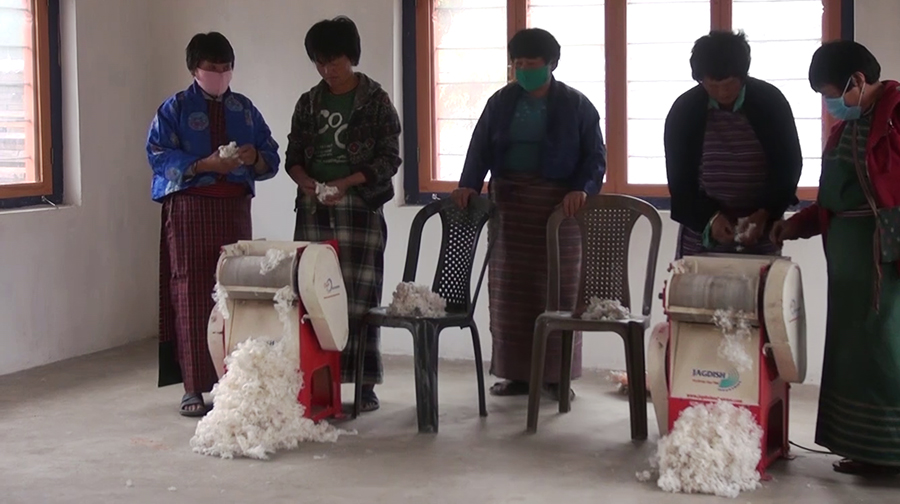 The country's rich weaving culture is among the few ancient arts that are still thriving today. In Thongsa village of Pema Gatshel, over time, weavers that once used to grow and spin their cotton yarns resorted to buying imported ones. Today, people are taking interest in growing cotton plants once again, thanks to a Cotton Processing Plant that has been set up in the community. 
The machines carry out the ginning and carding processes, two of the most difficult works according to the people. Ginning involves separating the cotton lint and the seeds, and carding is to clean and soften the fibres. In the past, these had to be done manually, and because of that, they say most weavers opted to buy threads from the shops.
"In the past, we had to do all these works manually. It would take us the whole day to segregate a kilogram of cotton. But today, we can complete our work in a few hours. We can easily finish the carding and ginning several kilograms of cotton," said Sonam Zangmo, a Thongsa resident.
"In the past, we used Thrishing for ginning and a bow for carding. It was quite difficult. Now it's very easy thanks to the machines. So I am thinking of growing more cotton now," said Shacha Peldon.
"The wind used to blow our cotton away. Now, this doesn't happen because work in a room," said Tshering Peldon.
The processing unit became fully functional in 2019 after a house for the unit was constructed by the Agency for Promotion of Indigenous Crafts (APIC) for Nu 1.3 M. The agency had already provided the machines worth about Nu 1.7 M three years earlier.
"Before we moved here, we used these machines in the Gewog meeting hall. We used to work when there was no meeting," said Tshering Peldon.
"Although we got the machines a few years back, we couldn't use them properly without a proper house. The machine was kept at the Gewog office. Every time we wanted to use the machine, there were meetings or other official work there," said Kelzang Jigme.
For years, the people of Thongsa have been weaving mostly Gho and Kira using only cotton yarns. Today, every woman in all the 35 households carries on the tradition. Each household grows between 150 and 200 kilograms of cotton in a year.
Thinley Dorji, Pema Gatshel