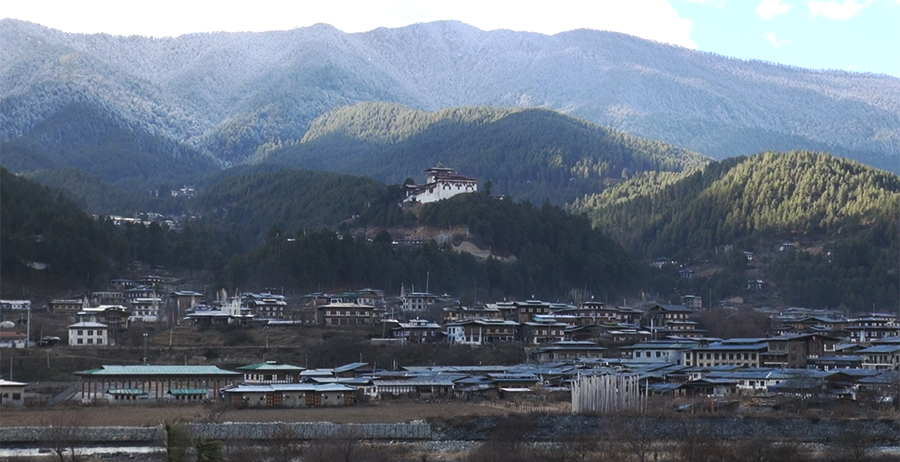 Bumthang has become quite synonymous with fire accidents going by the number of fire incidents in the last decade or so. Though there are no proper records, people say there was at least one fire incident annually in the district since 2010 when a major fire almost wiped out Chamkhar town. This winter is no exception. There were four fire accidents in 17 days, just recently. So what are the agencies responsible for ensuring fire safety in the district doing to tackle the problem?
In the afternoon of December 20, residents and officials were alerted when a forest fire broke out at Kurkurbithang, just a few kilometres away from Chamkar town. Almost nine acres of forest were burnt after three youngsters accidentally started the fire while setting a campfire.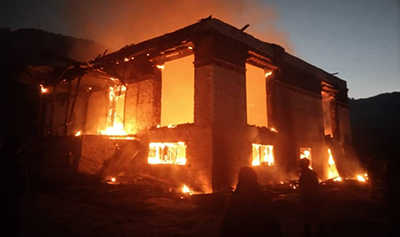 The next morning, in a separate fire incident, a fire destroyed a Threma Lhakhang at Jalikhar. About Nu 50 M worth of properties were lost. A few days later, another forest fire caused by agricultural debris burning in Zhicha of Chhumey Gewog damaged around six acres of forest cover. And last week, a 12-year-old girl died after two huts were razed to the ground in Nasphel. The family is still recovering from the trauma.
"During the fire, my husband broke a window and asked me and my daughter to escape through the window. I put one of my legs across the window and then pulled my daughter towards the window. However, the ceiling came down and hit me on my right arm. Then I lost hold of my daughter. I tried my best to save her but I couldn't," said Sangay Dema, a resident of Nasphel in Bumthang.
Authorities couldn't ascertain the cause of the fire. Likewise, very often, the causes of house fires remain unknown. Some people blame electrical short circuits but Bhutan Power Corporation says otherwise.
"Even if short circuits occur, the MCB or Miniature Circuit Breaker will trip and shut down the system. Fires won't start directly from internal wirings. As per our observation, most house fires in Bumthang occur during winter. If the cause is electricity, there should be an equal number of fire mishaps during summer as well," said Guru Tshering, the Offg. Manager of BPC.
"The use of wood-fed stoves or Bukhari during winter in cold places could also possibly be causing house fires. As wire covers get melted during fires, it becomes easy for people to blame BPC when they find residue of burnt wires at the site," he further added.
The office says new power connections are provided only if all wiring and earthing connections are done as per the standards.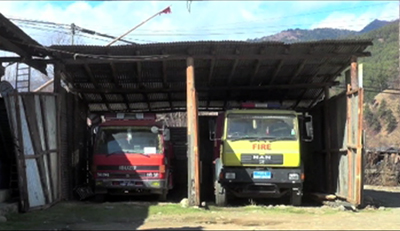 Meanwhile, following several fire incidents in Chamkhar town, the district administration installed 15 fire hydrants in 2019. Bumthang fire brigade has two fire trucks and seven policemen on duty, round the clock.
"To attend to emergency calls, we have a fire brigade office located in the core town area, so the drivers and the fire tender experts are 24/7 there in the office on a rotational basis. We are also constantly monitoring the fire hydrants. Each day we collect reports from our personnel on the ground. There was no issue of formation of ice in the hydrants so far," said Major Sonam Wangchuk, Officer Commanding, RBP, Bumthang.
Bumthang police also conducted mass sensitisation on fire safety and prevention measures across the district, twice, last year. Recently, a door-to-door awareness program was also conducted. During the program, it was found that except for snooker and party halls, most shops in the town didn't have fire extinguishers.
"We have requested the individual shopkeepers and the owners of the shops to have at least a fire extinguisher each, ready to be used if in case there is a fire. If at all there is any problem in purchasing those fire extinguishers, we have assured them that the Royal Bhutan Police in coordination with the Dzongkhag Disaster Management office will be able to assist them in purchasing one," added Major Sonam Wangchuk.
Meanwhile, residents in Chamkhar town still live in fear although there has been no fire in the town since 2016. However, the town's clustered settlement of semi-permanent wooden structures remains highly vulnerable to fire disasters.
Chamkhar town was gutted by fire four times between 2010 and 2016, losing over 150 shops and structures.
Kipchu, Bumthang