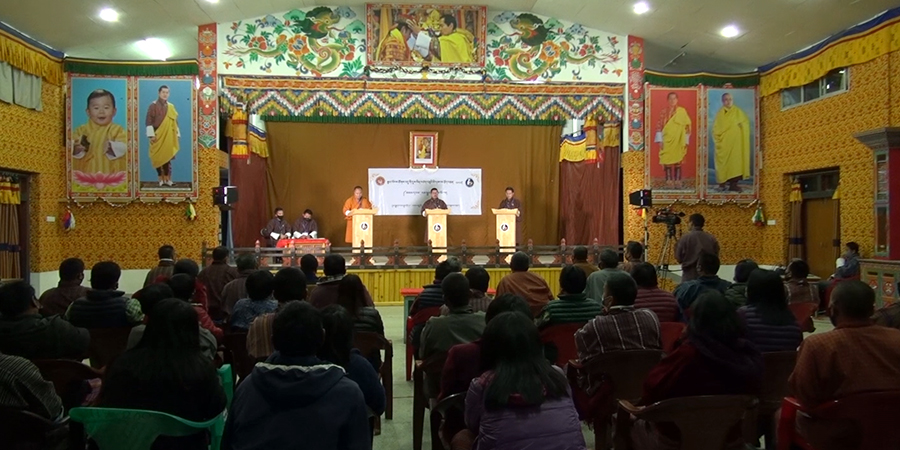 The bye-election poll day for the National Assembly member of the Khamdang-Ramjar constituency will be held on February 3. The DPT candidate, Jigme Tashi and the DNT candidate, Karma Gyeltshen went head-to-head in the public debate on Thursday. But the voters were left disappointed after both candidates did not have any new developments they would bring into the constituency.
The DNT candidate Karma Gyeltshen said it would be more beneficial for the people to elect someone from the ruling party. He said he would ensure that the remaining projects under the 12th Five Year Plan for the constituency are all completed.
The DPT candidate Jigme Tashi said it would not make any difference on which party the Member of Parliament is from. If elected, he said he would carry out the role of the opposition in ensuring that the government completes all the remaining projects under the 12th Five Year Plan.
Meanwhile, without any specific plans or promises of new developments which are normally done so in past debates, voters say the public debate this time was disappointing.
"We have water problems here, we have farm road issues, most of the roads are in poor conditions, Manla village does not have irrigation water, they did not have any pledges on these subjects, we expected them to speak on these issues but both the sides said nothing, we are not happy," said Dorji, a resident of Khamdang.
Lhendup from Toedtsho Gewog also shared similar concerns. "We don't know whom to vote and elect, we are confused because no one had any proper pledge during the public debate they just wanted to win over their opponent," he said.
Khamdang-Ramjar constituency has more than 10,000 registered voters of which over 3,000 have registered for postal ballots. About 100 voters have registered for mobile postal ballot.
The MP's seat for the Khamdang-Ramjar constituency became vacant after the former MP Kuenga Loday resigned in November of last year. He was convicted of the illegal construction of a road along with five others by the High Court. The case is currently at the Supreme Court after he appealed.
Sonam Darjay/Choni Jamtsho, Trashi Yangtse
Edited by Yeshi Gyaltshen