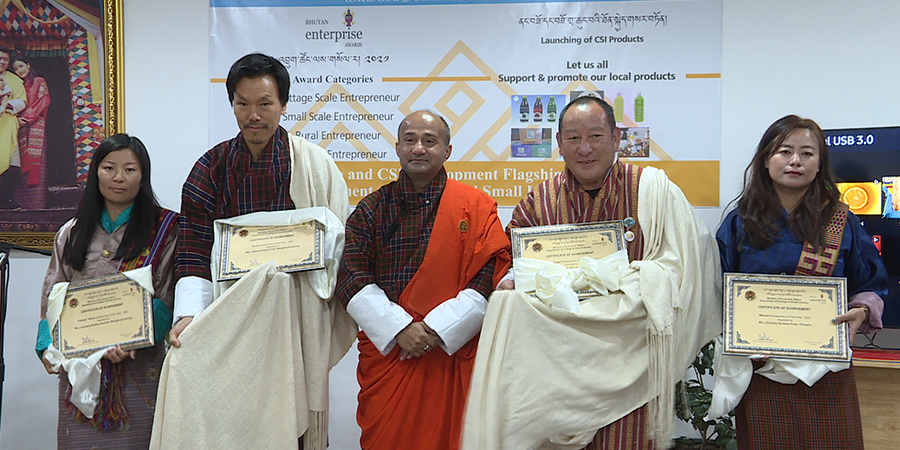 Recognizing the role of entrepreneurship in the country, the economic affairs ministry awarded this year's Bhutan Enterprise Award to four successful Cottage and Small industries (CSI) businesses today. Instituted in 2013, the award rewards and acknowledges the contribution of CSIs to the socio-economic development of the nation.
Lhawang Dedhen Incense, dealing with incense products based in Wangdue Phodrang won the Cottage-Scale Entrepreneur of the year.
And Kinley and Sonam Manufacturing that deals with Made in Bhutan garments based in Thimphu was declared the Small-Scale Entrepreneur of the year.
Similarly, Highland Dairy Unit based in Wangdue Phodrang was awarded the Rural Entrepreneur of the year.
In the Women Entrepreneur Award category, Cheychey Sanitary Pads won the title.
The awardees received cash prize of Nu 200,000 each. The four recipients were selected from forty entrepreneurs.
"Such recognition would eventually encourage and give a boost for all the upcoming entrepreneurs," said Sonam Tobden from Lhawang Dedhen Incense.
"I deal with garments. We make uniforms of CDCL, DGPC, Police and even design jackets for such organisations. I am happy to have received the award. It simply motivates me to work harder," said Kinley from Kinley and Sonam Manufacturing Unit.
Meanwhile, the event also saw the launch of six new CSI products ranging from herbal drinks to potato fingerling. With this, the total number of CSI products launched are 32 so far.
Choni Dema
Edited by Sonam Pem