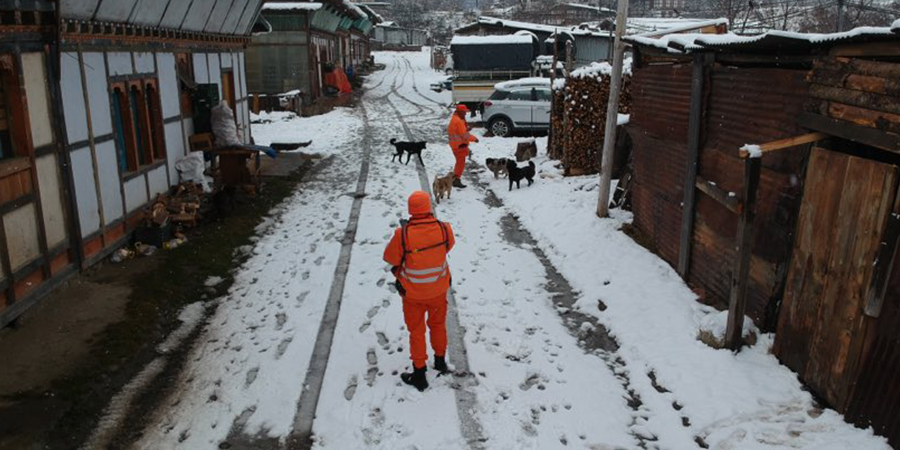 Picture Courtesy: National Accelerated Dog Population Management and Rabies Control Programme
As part of the National Accelerated Dog Population Management Programme, more than 25,000 stray dogs will be sterilised in March next year. To this effect, the Department of Livestock along with the DeSuups carried out the first nationwide stray dog population survey. The two-day survey conducted in 19 districts recorded more than 63,000 stray dogs across the country. Most of the dogs were sterilised in the past. It is a part of the Dog Population Control Flagship Programme to address the problems caused by stray dogs.
More than 3000 DeSuups and 400 livestock officials carried out the stray dog population survey. They surveyed the dogs using a mobile phone application. They said it will help in planning the two-week-long mass sterilisation and vaccination campaign in March.
Officials said despite numerous attempts in the past, 100 per cent sterilisation could not be achieved due to limited manpower and difficulties in catching stray dogs. They said in the past such campaigns were carried out at a very small scale in districts and gewogs based on the availability of budget.
Dr Karma Wangdi, the Deputy Chief Veterinary Officer from the Department of Livestock said, "The survey will help decide where to set up clinic centres in the gewogs when we roll out the nationwide dog sterilisation programme in March."
He said the programme will help address the problems including dog bite cases and rabies outbreaks in the country. The National Centre for Animal Health recorded 19 rabies outbreaks last year. And about 7000 people are bitten by dogs every year.
 "We are all aware of the issues the stray dogs cause both in the villages and towns. Stray dogs can transmit rabies to people. Besides, they bite school-going children and the elderly. They are also a nuisance in towns. And also, there are reports of feral dogs attacking domestic animals. If we don't look into the matter right now, a dog and her puppies can produce about 60,000 puppies in five years. In that case, there are chances of dog population outgrowing human population in the country," said Dr Karma Wangdi.
 As part of the programme, the department also microchipped more than 7000 pet dogs and sterilised almost 95 per cent of the stray dogs in Thimphu in October. The microchip is an electronic device that provides the digital identity of pet dogs and their owners.
The programme intends to achieve 100 per cent sterilisation of stray dogs and register, and vaccinate all pet dogs by 2023.
Phub Gyem
Edited by Tandin Phuntsho