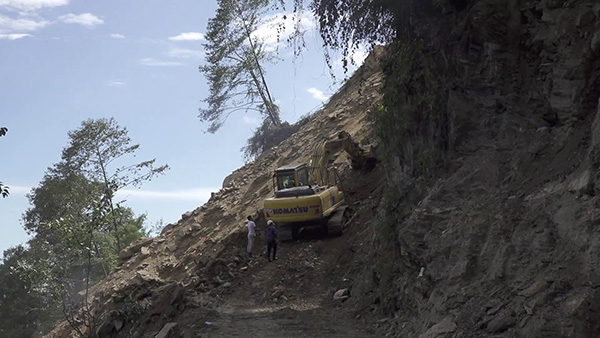 Works are underway to clear the roadblock at Namling along the Bumthang-Monggar highway. The Department of Roads office in Lingmethang says it will take at least three more days. The highway remained closed since Wednesday evening due to a massive landslide.
People travelling to eastern districts are now taking an old trail to cross the block with help from the officials at the site. Some commuters have already returned to their respective places after three days of waiting.
"If we remain in the block, we might struggle without food. So we took the old trail and reached here. I kept my car along the highway. I will come for it when the road reopens," said a stranded commuter.
The Road Safety and Transport Authority (RSTA) asked those travelling from the east to take the Nganglam-Panbang highway. It allowed 15 public buses that were stranded in the roadblock to take this detour. However, private cars have to seek approval from the relvant Dzongkhag COVID-19 Task Force as Panbang and Nganglam fall under COVID high-risk areas.
The arrangement is not welcomed by everyone as it asks for more time and money.
"Passengers were complaining that they don't have enough money for meals. It is also difficult for them to sleep inside the bus without blankets. They complain that they don't have enough money to travel via Panbang. But we have to ask for extra fare if we go via Panbang since we have to refuel the bus. These days, the fuel price has also increased," said Depen, a Bus Driver.
The Department of Roads in Lingmithang deployed two machines at the site to clear the block from Thursday. However, there is not much progress to show due to continuous falling boulders at the site. The work continues amid the risk but the condition remains the same.
"If there are no falling boulders, it would at least take three days to clear the block since the road formation on the other side was completely washed by the landslide. It would take three days to maintain the road. However, if the situation doesn't improve we cannot exactly say when we can reopen the road," said Kinzang Dorji, the Chief Engineer of the DoR in Lingmethang.
Until the road reopens, the RSTA will also suspend all public transport services travelling via Bumthang and Monggar.
Sonam Tshering, Monggar
Edited by Sonam