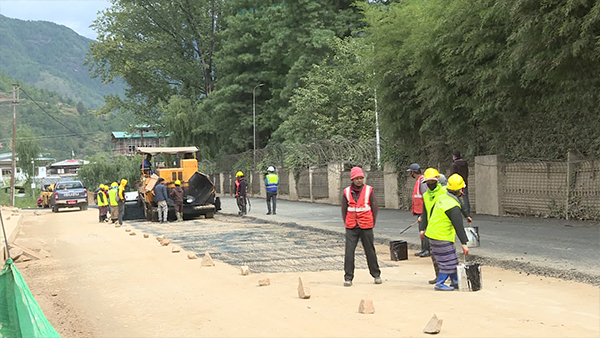 It won't be long before the North Thimphu residents get to enjoy a smooth ride between Chubachu and Jungshina. The Thromde plans to complete constructing the much-awaited four-lane road connecting the two places by the end of this month.
This 3-kilometre stretch between Bhutan Telecom and Jungshina bridge is 90 per cent complete. The Thromde has blacktopped about 300 meters of the road so far.
"We aim to complete it by the end of October and we are working hard these days. The cost estimated would be sufficient enough to complete the project. We are trying hard to make the best quality of road and it is consuming time. We are also going to make the nearby affected stretches better during the process," said Ngawang Tashi, the Project Engineer of Thimphu Thromde.
The four-lane road's construction, which began in May last year was supposed to complete by May this year. However, it was delayed by the lockdowns. The cost of the project also doubled to Nu 300 M due to a huge wall construction along the way.
Despite the delay, commuters taking the road are happy with the work's progress. They no longer have to put up with a bumpy, dusty and muddy road.
"Compared to last time, it has improved a lot.  We had a problem traveling through this route before. Now, we don't face any problems and we can travel safely," said Tenzin Rinchen, a taxi driver.
"The road is much better now. We had to take the other route before even if we live nearby. Now, we can take this route to go to the office from home," said Pema Wangchuk, a commuter.
"The road is better now. It was all muddy last time; the vehicles could not travel from this route and we took the other route. There was traffic congestion while using the other route. If the road is completed soon, it would benefit us a lot," said Dorji Wangchuk, another taxi driver.
"The road was muddy last time, we had to push our vehicle. I am happy now that the road construction is soon going to be complete. We had to take the other route before and there would be traffic congestion for almost an hour," said Yeshey Choden, another commuter.
Meanwhile, once the stretch is ready, the Thromde plans to redesign the junction below the Bhutan Telecom office to reduce traffic congestion.
Yeshey Dema (Intern)
Edited by Sonam Wangdi