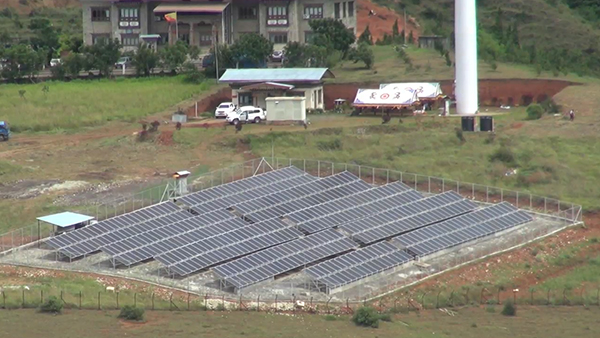 Bhutan is inching closer towards its dream of energy security through a diversified and sustainable energy supply mix. On Monday, the economic affairs ministry (MoEA) officially inaugurated the country's first grid-tied solar power plant in Ruebisa gewog, Wangdue Phodrang.
The 180 kilowatt (kW) plant was commissioned in August and has been feeding electricity to the local grid for distribution. The plant generates 263,000 units of energy annually, which is adequate for supplying electricity to 80-90 households.
Given the rising energy demand, officials said such projects will help diversify the country's renewable energy landscape which, at the moment, is dominated by hydropower.
Phuntsho Namgyal, the Director of Renewable Energy Department, said, "The plant demonstrates the viability of solar power plants on a utility scale."
He added that such a plant can augment hydropower supply to meet the country's rapidly increasing domestic electricity demand, especially in winter months.
"Electric cooking technology is slowly taking roots. As such, domestic demand for electricity will only increase and is seen increasing very rapidly in recent times."
According to MoEA, about 30 per cent of Bhutan's energy consumption today is met through electricity, mainly via hydropower plants.
The solar power plant is part of Bhutan's COVID-19 response and recovery project, 'Towards Smarter, Greener and More Resilient Recovery through Innovation in Bhutan.' Supported by the UNDP, the government of Japan funded the project worth USD 210,000.
"Through the implementation of this project, I hope we will demonstrate to the people of Bhutan that solar is a viable energy source with costs comparable to the latest hydropower projects," UNDP Resident Representative Azusa Kubota said.
A Bhutanese team carried out the project, including the design, construction and installation, among others. It took the team seven months to complete the work.
Inaugurating the power plant, the National Council's Chairperson, Tashi Dorji, said, "It is timely that we accelerate harnessing solar energy and other renewables to have a healthy mix of energy supply from various renewable energy sources."
As per the Renewable Energy Management Master Plan 2016, Bhutan could produce 12 gigawatts (GW) of solar and 760 megawatts (MW) of wind energy. Yet, the country's current installed capacity for renewables, apart from large hydro plants, only amounts to 9 MW.
Changa Dorji, Wangdue Phodrang
Edited by Sonam Wangdi