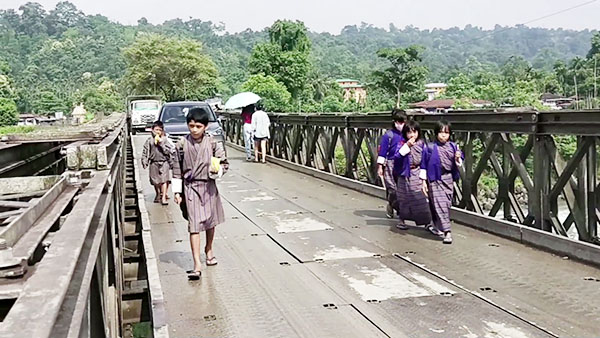 The residents of Samdrupchhoeling Dungkhag in Samdrup Jongkhar are pleading for a new bridge over the Nyera-Amachhu. People say the present bridge is unsafe as it is narrow without a proper footpath for pedestrians. It also risks being washed away in summer when the river swells up. 
For the past fifteen years, people of four gewogs under Samdrupchhoeling Dungkhag have been using the Bailey bridge. Without a proper pathway, those crossing the bridge on foot which includes school-going children are at risk of getting hit by vehicles.
The bridge is also frequently used by trucks ferrying goods that weigh well over 20 tonnes. The load-carrying capacity of the bridge is only 18 tonnes.
Tshewang Chophel, a resident of Samdrupchhoeling says the Bailey bridge is not convenient because only one vehicle can move at a time. He said, "pedestrians also have to go through the same path, so there are chances of accidents. It will be better if we have a bigger bridge".
Similarly, Padi Maya feels a bigger bridge will be convenient especially for school-going children. "Right now, the bridge is small and we are worried that the children might fall from the bridge because there is no sidewalk for them," she said.
Kelzang Phuntsho, another Samdrupchhoeling resident said, "many trucks carrying coal also use this bridge. The bridge is also quite old, and it is risky for students since the bridge is small".
Meanwhile, the regional office of the Department of Roads says they have plans to construct a new bridge. The office had submitted a proposal to the Works and Human Settlement Ministry to construct the new bridge in the coming financial year, but it was rejected.
According to Kinzang Wangchuk, the Chief Engineer of the DoR, the GNHC dropped it on priority grounds. He says it is highly unlikely the plans will materialize in the current Five-Year Plan but it could be prioritized in the 13th FYP.
For now, he says they are looking for alternatives to make it safe for pedestrians such as by constructing a footpath on the side of the bridge.
 Kinley Wangchuk, Samdrup Jongkhar
Edited by Yeshi Gyaltshen