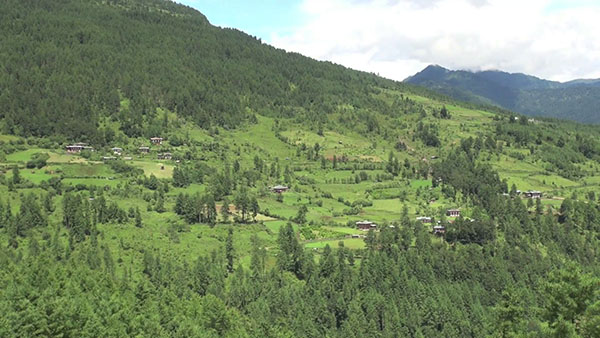 As the new subsidised timber allotment rule continue to cause inconvenience to the rural population, people of Bumthang want the old rule reinstated. They say the quota per household under the new regulation is not enough. According to the amended Forest and Nature Conservation Rules and Regulations, a household is entitled to only 18 sawing timber (drashing) once every 25 years. Earlier, it was 80 standing trees and eight drashings. 
The people said since Bhutanese homes are timber-extensive structures, at least 30 drashings of pine are required to construct a two-storey house.
Tshewang Samdrup from Chummig recently applied for a subsidized timber permit. He was allotted 18 trees under the new rule. "With that many trees, I don't think I can build a house."
He said that forest officials want the villagers to fell old and big trees, which is not applicable.
"Such (big) trees are found only in distant jungles and transporting them is costly for farmers like us."
The Tandigang Tshogpa, Tashi Lhendup, said that officials might have framed the new rules based on the trees found in southern districts.
"In Bumthang and other colder regions, the trees are smaller. So whatever timber we get from them is barely enough to construct a house."
Some villagers said, to meet the deficit, sometimes they have to cut down trees illegally.
The matter also resurfaced during the recent Dzongkhag Tshogdu (DT).
Ura Gup Khandu Wangchuk said that in March, the DT submitted its minutes regarding the timber allotment problems to the agriculture and forests ministry.
"Since we did not receive any response from the ministry, we are raising the issue again."
"We want the forestry officials to look for solutions instead of blaming the new rule," he added.
The DT Chairperson, Jampel, said that finding big trees in the forests of Bumthang is difficult as most of them have been felled.
"The problem is genuine. We met the people and saw the situation."
Pankey Dukpa, the Chief Forestry Officer of Bumthang Divisional Forest Office, said the ministry could not provide a prompt response to the Dzongkhag Tshogdu as the issue is under discussion.
"If we don't study the actual number of timber required, we will end up changing the rule time and again. But if the shortage is genuine, we will amend the rule."
He said the ministry amended the rule to standardize the rural timber quota. It came into effect last year.
The Bumthang DT will forward the issue to the Agriculture and Forests ministry once again.
Meanwhile, the situation is similar in other districts where pine trees are used for constructing houses.
Kipchu, Bumthang
Edited by Sonam Wangdi