Water shortage in Wakhar village, Trashigang
Aug 29, 2021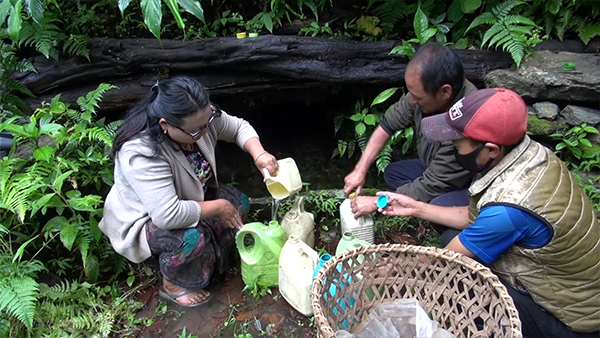 People of Wakhar village under Lumang Gewog in Trashigang have been grappling with water shortage for more than a decade. Their only water source located some three kilometers away is drying up slowly.
Having enough water means making nearly half an hour hike to the nearest pond every day.
It is a daily struggle for Karma Yangzom, 34, and her neighbors to fetch drinking water. Without a reliable water supply, almost every household uses hard-fetched water wisely. Among them, some four households are found to be severely affected due to the problem.
"It takes around 10-15 minutes walk to reach the water pond, I fetch about five times a day. But it still is not sufficient for us," said Karma Yangzom.
"If we have more households, it will be a big problem. For the past two years, we have been continuously fetching water from the pond which slowly is drying up," said Lang Gyeltshen, another resident.
"We have been asked to maintain proper hygiene and sanitation during the pandemic. But with no enough water, it is simply impossible. The water is hardly enough for cooking and cleaning," said Sonam Chophel.
However, the matter is expected to resolve soon. The gewog administration has identified a new water source and allocated five hundred thousand Ngultrum under the rural water supply scheme.
"We are ready to start our work right after we receive water pipes and other material. We have already given out our supply orders. The water problem was supposed to be solved within a few months before the pandemic. But it got delayed," said Wangdi, the Lumang Gup.
Once complete, the new water source will benefit about 12 households.
Sonam Darjay, Trashigang
Edited by Sonam Pem