Traditional musicians to be certified as professionals
Aug 29, 2021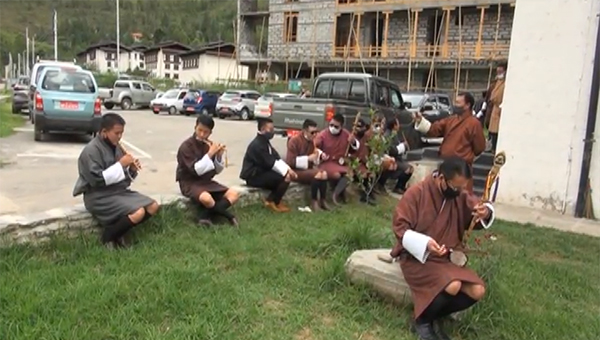 Traditional musicians can now get certified as professionals in the country. This comes after the heritage education and professional development centre at the Paro College of Education in collaboration with labour ministry started recognizing musicians with national certificates this year.
The first batch of about 12 musicians underwent the assessment in Paro recently.
With no official recognition and certificates, these musicians who often appear on live shows and singing competitions on national television are not considered professionals. But not anymore.
"In the current situation, certificate is must. No matter how talented we are, only certificate will recognize us as professionals. So, we are grateful for giving us this opportunity," said Karma Yonten, a musician.
""Even if we aspire to train or give music classes to youth and children, we need certificates to prove that we are professionals. If we don't have a certificate then it might affect our opportunities," said Tshering Dorji.
I have many certificates in music but none are worthy in the market. After I resigned from RAPA, I go to schools teaching the art of traditional music. But we are often asked to produce certain documents proving our excellence but we fail to provide one. The certificate from this assessment will really help us," said Dorji, another musician.
"We assess them in theory and practical. For theory part, the participants must appear for an examination and for practicals, they will have to show their instruments playing skills," said Tshering Dorji, music instructor at the Paro College of Education.
"People who are skilled and have experience in art and music lack professional certificates recognizing the skills. And as it is directly related with our centre, we took up this initiative in collaboration with the department of occupational standards under the labour ministry. So, the ministry will assess and certify," said Dorji Letho, the head of heritage education and professional development centre at Paro College of Education.
With the entry of various modern musical genres and instruments, traditional music has stood the test of time.
Recognizing and certifying traditional musicians is expected to go a long way in preserving traditional art and music in the country.
Namgay Wangchuk, Paro
Edited by Sonam Pem