Her Majesty The Gyaltsuen graces launch of waste management facilities
Aug 27, 2021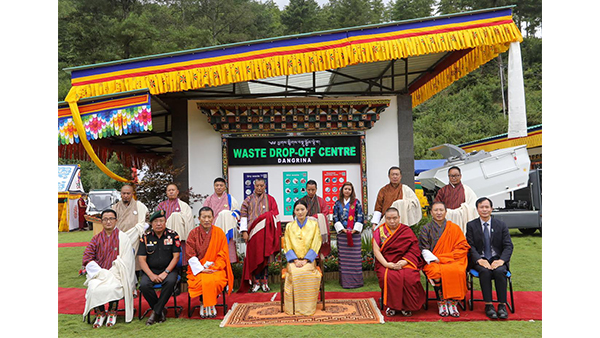 The issue of waste management within Thimphu Thromde and the district is expected to get better now. The National Environment Commission Secretariat and the Waste Management Flagship Programme launched waste management facilities including waste drop-off centres for the residents of Thimphu today. Her Majesty The Gyaltsuen, the Royal Patron for environment graced the event.
Her Majesty The Gyaltsuen graced the launch of the waste drop-off centre at Dangrina in Thimphu. Nine such facilities are set up within the Thimphu Thromde to address the city's waste management issues.
The facilities will mainly cater to those people who cannot catch up Thromde's waste collecting vehicles.
During the event, electric waste collection vehicles for the Thimphu Thromde, 25 waste collection facilities for the gewogs in Thimphu and a website for Zero Waste Bhutan were also launched.
"Until now waste collection timing has been big issue for the Thromde residents. When the collection vehicles can't make it on time, people drop their wastes everywhere. So, with the launch of these facilities, people can drop-off their household wastes anytime of the day at the centres," said Ugyen Dorji, the Thimphu Thrompon.
"Then Zero Waste Bhutan website launched today will give information on the facilities which will be implemented through the flagship programme. So, as and when we have facilities and infrastructure coming up under the programme, it will be updated for public information," said Thinley Dorji, the chief environment officer at National Environment Commission.
"And also, we will be digitising the routes and lot of other information on wastes. For example, location of drop-off centres, if there is a change in route for collection vehicles. All those will be slowly updated in the website," added Thinley Dorji.
The initiative is a part of the Waste Management Flagship Programme to make Bhutan a waste free society by 2030.
The Prime Minster, the Foreign Minister, who is the Chair of NEC, and other stakeholders were present during the event.
Phub Gyem