Egg price creeping higher, again
Aug 24, 2021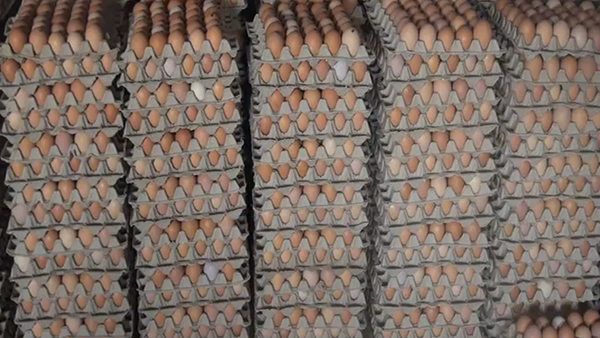 Of late, many consumers have been asking questions as the egg price shot through the roof once again.
"What do our poultry farmers feed their layer chickens?"  "Are we really self-sufficient in eggs?"
In Thimphu, a tray of eggs costs Nu 440. About a month ago, it was in between Nu 350 and Nu 380 per tray.
On average, the price per tray increased by about 20 per cent.
According to shopkeepers, eggs are in short supply in the market. As a result, the price saw a steep increase within no time.
Wangmo, a shopkeeper in the capital said, "I used to bring 100 cartons of eggs. Today, we don't even get half of that."
Another shopkeeper Choden added, "People say that the price of eggs increases every week. They think we are doing it, that's not the case."
Some poultry farmers in Tsirang said the price rise is due to the shortage of day-old layer chicks required to replace the matured layer birds. Today, in most farms, the layers are matured, so their production has reduced.
"I used to have 5,000 layers, but today, I am left with half of them," said San Man Subba from Tsirang.
Besides, the prices of feed have increased.
The chairperson of Tsirang Poultry Cooperative, Dewan Pradhan, said that within a year, the price of feed increased twice.
"Moreover, we didn't get day-old chicks in time."
According to the director of Karma Feeds, Chencho Wangyel, the feed prices increased by seven to 10 per cent in May following a revision in prices of raw materials, which are mostly imported. For instance, soya, the main ingredient for poultry feed, cost Nu 35 per kilogram. These days, the price is about Nu 110 per kilogram.
However, he said, the recent hike in price of eggs is not entirely due to feed prices.
"The egg price should have gone up in May itself if that's the case. The price increased suddenly in August after a gap of two months."
Livestock officials said the COVID-19 pandemic disrupted the supply of day-old chicks. They explained that Bhutan imports parent breeders to produce commercial day-old chicks.
And with the restriction of international and cargo flights and closure of international airports, it became challenging to bring in parent breeders.
In an email interview, a livestock official stated, "Only in August 2020, we were able to import three batches of parent breeder from India. And the government input farms have already started to supply day-old chicks to the farmers based on the production and distribution schedule."
The official added that the demand for day-old chicks further increased with many individuals in the country taking up poultry farming. However, the supply is expected to stabilize by October.
Until then, consuming eggs, considered one of the cheapest animal protein sources, will continue to be a pocket burner.
Samten Dolkar/Sonam Penjor/Pema Tshewang
Edited by Sonam Wangdi