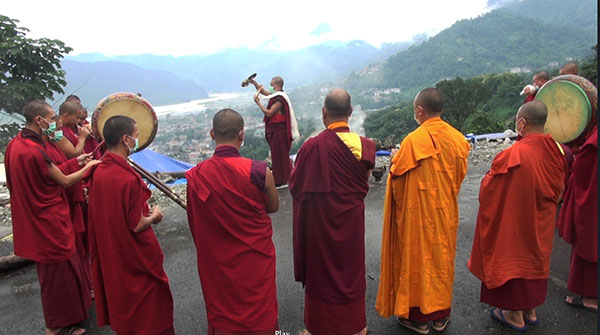 Given the grim situation in Phuentshogling due to the COVID-19 pandemic, the Central Monastic Body is currently conducting a weeklong Kurim in the region. The Kurim is being held to avert the risks posed by the Coronavirus. The prayer ceremony began on Tuesday and will end on coming Monday.
Led by the Laytshog Lopen, about 20 monks are reciting religious scriptures and offering prayers at the Rinchending Goenpa.
The prayers start as early as 5 in the morning and continue till 7 PM.
According to Laytshog Lopen Sangay Dorji, the Kurim is being conducted upon the command of His Holiness the Je Khenpo. "As commanded by His Holiness, the astrologers came together to see the astrological readings of the town. As the COVID-19 cases are more in the Southern belt, offering Kurim was one of the events to be conducted here to avert the risks posed by the pandemic".
Similar recitations and offerings are also being conducted in other places of Chhukha as well as in Sarpang, Samtse and Samdrup Jongkhar.
"More importantly, we are also giving away the holy water which His Holiness has prepared along with the holy water prepared by the Zhung Dratshang. It is being distributed to every household here in Phuentshogling. We also have plans to hoist 1,000 prayer flags here," the Laytshog Lopen added.
Phuentshogling town has returned to the new normal situation, but the risk of COVID-19 transmission still remains.
Sonam Penjor, Phuentshogling
Edited by Yeshi Gyaltshen