A renovated vegetable shed attracts vegetable vendors to take up business, Zhemgang
Aug 19, 2021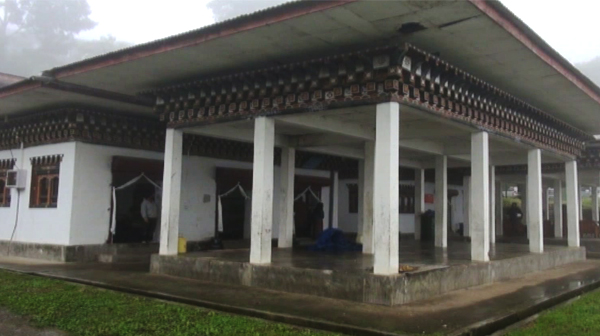 The abandoned vegetable market shed in Zhemgang town came to life after nearly two decades of its construction. A major renovation was all it took to attract vegetable vendors to occupy the shed. Today, five vendors are doing business from the shed, and this is expected to benefit the farmers and residents in the district.
The renovated Sunday vegetable market shed in the heart of Zhemgang town was opened last Saturday. The shed also has a Bhutan Livestock Development Corporation (BLDC) sale outlet to cater livestock products to the residents. The regular vendors also have individual partitioned outlets. Before this, they have been selling vegetable and livestock products from the grocery stores and sometimes from the street. They say it was inconvenient both for the sellers and buyers then.
"We sold vegetables in an open space before. But now we got individual rooms and it is very convenient for us to sell all kinds of vegetables. I am very much at peace and happy here," said Thinley Penjor, a Vegetable Vendor in Zhemgang.
With many farmers in the district into commercial vegetable farming in the wake of the COVID-19 pandemic, access to the market has always been an obstacle for them. However, Dzongkhag Agriculture Officials are now confident that this will no longer be an issue since the farmers can directly sell their produce to the regular vendors at the shed.
"Farmers from anywhere in the district can come here and sell their products in bulk to the vendors. Our main aim is to ease the market issue and facilitate the sale of local produce here," said Phuntsho, the Dzongkhag Agriculture Officer in Zhemgang.
Meanwhile, a Memorandum of Understanding was also signed between the management of the BLDC and the dzongkhag for continued support in terms of marketing and production. The BLDC outlet is expected to meet the residents' demand and provide a platform for the farmers to market their livestock products.
"To provide nutritious food to our children in Zhemgang, we will supply livestock products to the schools through this outlet in collaboration with the Bhutan Livestock Development Cooperation. We also hope, the local residents, the business community and civil servants out here would be benefited from this sales outlet unlike in the past," said Ugyen Lhendup, the Dzongkhag Livestock Officer in Zhemgang.
The shed was first constructed in 2003 spending about Nu 2.4 M. After remaining underutilised for more than a decade, the district tried reviving the market sometime in 2014. However, it was not successful. With an increasing population in the district over the years, a need for a proper market arose. Hence, the Regional Agricultural Marketing and Cooperatives spent about Nu 1 M to renovate the deserted structure. Apart from the partitioned outlets for regular vendors, the shed can also accommodate some 50 farmers today with basic facilities like electricity and toilets in place.
Pema Samdrup, Zhemgang
Edited by Sonam