Restoring the lost forest, hundreds of scouts planted oak saplings at Wangditse
Aug 15, 2021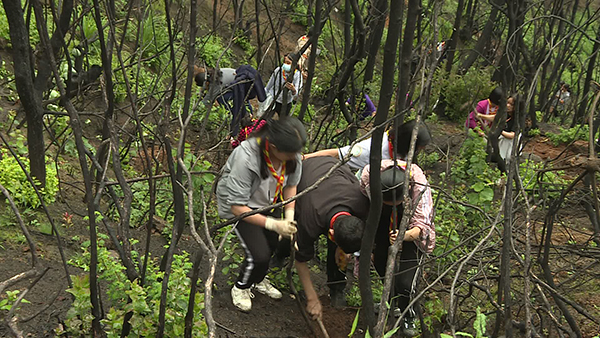 In an initiative to restore the forest lost to a fire, more than a hundred young scouts volunteered to plant oak saplings at Wangditse today. The volunteers under the project Wangditse will also nurture the tree saplings for the next three years. 
After a forest fire in May this year, the slope below Wangditse lies open to the sky with only a few brunt trees. It is a forest in tatters.
The fire which lasted for three days burnt 30 acres of land and a stupa.
Gyeltshen Dukpa, a chief forestry officer with the Thimphu forest division said as per the Forest Act, one fire incidence is charged Nu 5,000 and for one fire suppression, it's Nu 20,000.
"The fines were distributed between the parents of seven boys. They have also planted 1000 saplings which they have to nurture for three years. Besides, to reconstruct the stupa the boys need to carry the materials such as wood, stones, and sands," he added.
Restoring the forest, these young scouts planted one thousand saplings. The scout members are trained under the Scouts of World Award.
Sonam Choden, a scout volunteer said, "Due to the recent fire, that happened here at Wangditse a lot of lands have been lost to fire, and a lot of trees have been burned down. We have come here as a scout of the world award project."
"One of its criteria is to tackle issues related to the environment so I feel this project is aiming towards that. And I took part in this since we could bring back the green area again and save reforestation at its best," she added.
"It's mandatory to look after the trees for three years according to the forest act. We are divided group-wise so we will come, check the trees and water them every month. So, we have taken the promise to look after them for three years." added Sonam Jamtsho, the Project Coordinator.
Although the trees saplings planted today might take some time to grow, it is a step closer to reviving a forest once lost to fire.
Kelzang Choden
Edited by Sangay Chezom