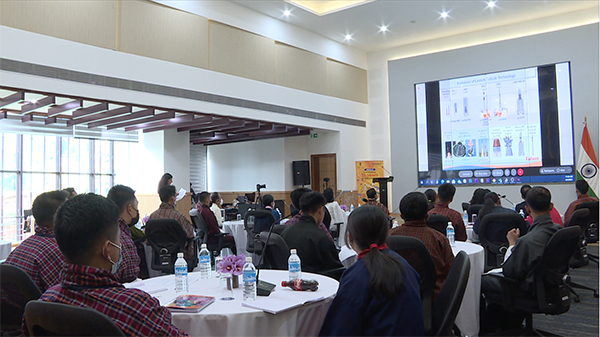 To encourage Bhutanese youth to pursue space technology, the Indian Embassy organised an interactive session on space programmes in Thimphu today. More than 20 students from Thimphu and Paro took part in the session. According to the Indian Embassy, space technology is one of the promising areas of cooperation between Bhutan and India. Currently, Bhutan is also developing its second satellite with India's support at the Indian Space Research Organization based in Bangalore, India.
During the session, the students interacted virtually with a Scientist from the Indian Space Research Organization. The interaction took them through India's journey into space exploration and various applications of space technology.
"I was really interested to learn about how the future technologies that are still in the process of development will help in the development of space travel and space settlement. I learned that to be able to make space settlement and also space travel accessible to many people, because right now it is not accessible, we need a lot of technologies. So, it is really fascinating how these technologies are evolving and I am really interested and in the future, I will be very happy if I can contribute as well," said Jamyang Ugyen Tshomo, a student of the Royal Academy in Paro.
"I wanted to learn why powerful countries such as India, China and Russia are spending billions or maybe trillions in space exploration when instead they could spend the money to save people from famines, war, post-war conditions and similarly like the COVID-19 crisis. But I learned that these superpower countries are spending billions to help the people. And their main goal is not to impress anyone or to show their dominance but to save people and mankind because space has many applications," added Rangjung Dorji, a student of Motithang HSS.
"It is the vision of His Majesty The King of Bhutan that in this age of technology there should be more emphasis on STEM because that is a very important vector of national development. So, to that end, I am very happy to say that the embassy has played a very small part. We are very pleased to have students in today's programme and provide an opportunity for these young and curious minds to know more about India's space journey, and how I think, they too can dream and envisage a career in STEM," said Ruchira Kamboj, the Indian Ambassador to Bhutan.
To help build Bhutan's capacity in space technology the Indian government also started providing scholarships to Bhutanese students in various institutes of technology in India since last year.
Phub Gyem
Edited by Sonam