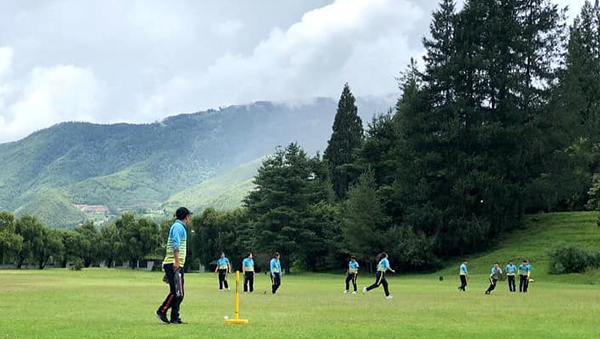 More often than not, the growth of sports in the country is held back by the lack of facilities. The plight of cricket is no different to other sports. According to the Bhutan Cricket Council Board, without a proper training field, training for international cricket tournaments has always been a challenge. Currently, the women's national team is preparing for the upcoming ICC Women's Asia Qualifiers that will be held in Malaysia in November. However, this time the Indian Embassy stepped in to help the team with their preparations by offering its cricket field for a month-long training session, today in Thimphu.
The team have been training for almost five months now for the Asia Qualifiers. So far, they have been training in Gelegphu. After the onset of the monsoon, they came to Thimphu to train. However, without a proper field, their training sessions in Thimphu could not find the desired pace. But now their spirits are high after the offer from the Indian embassy.
"I am very thankful to the Indian Embassy for supporting us. We trained in Gelegphu for over four months. We had to come here to train because the monsoon did not let us train further. We also don't have a proper field to train here. So this support means a lot to us. We have trainers, coaches, and assistant coaches too. For the first time, we are also attending gym sessions. That is why I feel we can perform well this time compared to our past performances," said Yeshey Choden, the Captain of the Women's National Team.
The Ambassador of India to Bhutan, Ruchira Kamboj, said that the Embassy is delighted to help the lady dragons train for the big event.
"When the proposal was first brought to my notice, we unhesitatingly said it's a big yes. And you can be assured that during this one month, we are with you and we are very happy to welcome you to the India house. Do feel this is your second home. We do not doubt that you will win the world cup qualifiers. And I want to tell you that not just me but the whole Indian embassy, and I am sure the whole of India, is going to be rooting for Bhutan. We want Bhutan to win and you will be a part of the wonderful tournament that awaits you in 2022."
The support is also to celebrate the common love for cricket between India and Bhutan and in keeping with the close and friendly relations between the two countries. The tournament in Malaysia is a precursor to the 2022 ICC Women's T20 World Cup to be held in New Zealand in 2022.
Tshering Dendup
Edited by Sonam