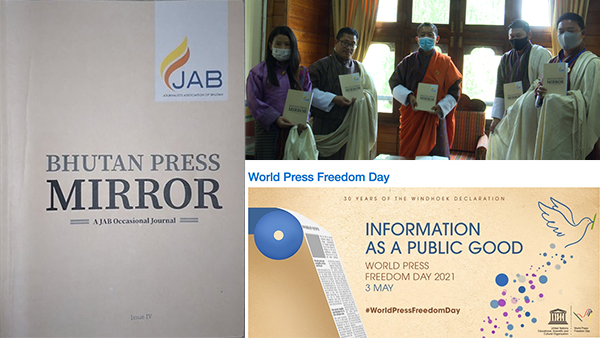 Practising journalists in the country have had their share of troubles while gathering information and reporting on various issues. Although Bhutan is ranked 65th by the World Press Freedom Index, two positions up from last year, the country is still identified as 'orange'. It means media in Bhutan operate in a problematic environment. Many Bhutanese journalists agreed with the report and said that access to information especially in bureaucratic offices is still a major challenge.
The 2021 World Press Freedom Index compiled by a France based organisation, Reporters Without Borders, states that self-censorship is a major inhibitor in the freedom of the press in Bhutan.
Coinciding with the World Press Freedom Day today, the Journalist Association of Bhutan (JAB) also launched the Bhutan Press Mirror journal. It also highlighted the difficulty in getting access to information.
"Access to information is still one of the major challenges we are facing today. Even if we go out, there are so many bureaucratic processes where we need to seek permission. That is why reporters are reluctant to go to the field. Without information, people will not know what is happening. We have to inform the nation and the people," said Rinzin Wangchuk, the President of JAB.
He also said that the major problem lies in the bureaucratic sector that has devised more ways to delay access to information discouraging many from pursuing impactful stories. Meanwhile, many journalists in the print BBS spoke to also shared that the freedom of the press is poor in the country although it is inscribed in the constitution.
"A lot of people feel uncomfortable talking to young reporters especially if they feel that they might misquote or make mistakes. It is good to hear that the ranking has improved but I think what matters to us is access to information and timely information especially when you work in a daily newspaper. The government has been very helpful, they have been very cooperative. But I think there is a flaw in the system where for example if you talk to a bureaucrat who has the information, the system does not allow them to be as open as the elected leaders," said Ugyen Penjor, the CEO of Kuensel.
However, the Prime Minister, Dr Lotay Tshering, said that the government will support all forms of media in Bhutan provided journalists report correct news. The Prime Minister also said he will consult the Royal Civil Service Commission to ease the journalists' access to the information given the commission's apolitical status. However, the media fraternity needs to submit a concrete proposal.
Today, in Bhutan, many reporters seek permission or send prepared questions before an official interview is granted.
The World Press Freedom Index is evaluated based on media independence, transparency, respect for the safety and freedom of journalists and the environment where they operate.
Tshering Dendup