Cookie business picking up in Pema Gatshel
Feb 8, 2021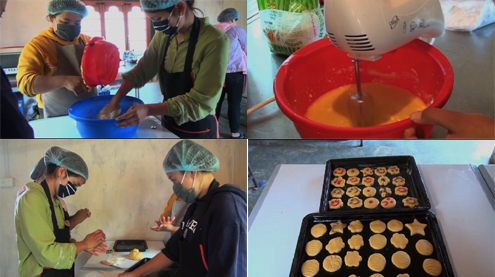 Venturing into a baking business has been the right decision for a group of girls in Pema Gatshel. With their cookie business picking up in the region, the group is now planning to further expand its business. Lack of proper baking equipment, however, remains a challenge for their business.
Four girls started a cookies baking business in Pema Gatshel. They make biscuits out of maize flour.
"We are using the raw materials which are available in the village. This way, we can support our farmers in the locality. In the eastern region, most of our farmers grow maize only to brew alcohol," said Yeshi Dema from Nangkor.
To attract customers, members try to shape cookies into various forms and colours. However, without proper baking equipment, the girls can be seen doing most of the works manually.
"If we work for the whole day, we can produce more. But our oven is small and most of the time it gets burnt. If our group gets a bigger oven, we are also thinking of recruiting more to work for us. With this, we are also hoping to increase production in the region. This will also help us in marketing our products in the market," said Rinzin Dema from Nangkor.
However, the problem is expected to be solved soon as the National Post Harvest Center has committed to help the group.
"We have already discussed with the head office in regards to providing a bigger oven, which can bake more quantity of cookies. Actually, we are supposed to deliver this as soon as possible but due to the second national lockdown, we failed to do it on time. We are also looking forward to supporting them with other kinds of machinery to this group," said Sonam Dendup, the Manager of National Post Harvest Center in Pema Gatshel.
Delighted with the news, the group says they are making plans to explore markets outside the district as well. The group sells a packet of cookies weighing about 175 grams for just Nu 40.
Thinley Dorji, Pema Gatshel