Royal Manas National Park wins Tiger Conservation Excellence Award
Nov 24, 2020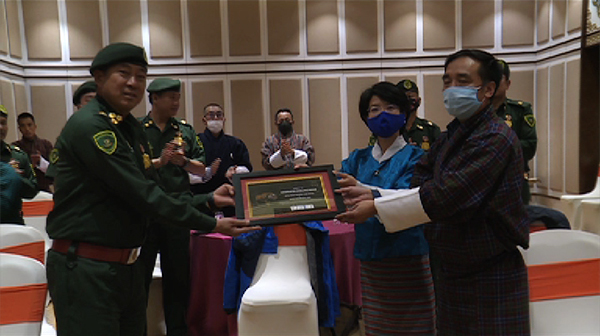 The Royal Manas National Park received the Tiger Conservation Excellence Award yesterday. Along with it, the Manas Tiger Reserve in India was also recognised with the same award, while Pilibhit Tiger Reserve in India won the inaugural TX2 Award. The awards celebrate the 10-year anniversary of all 13 tiger range countries who committed to double the global population of wild tigers by 2022, a goal known as TX2.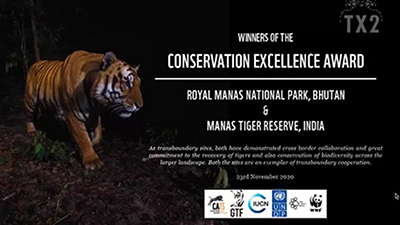 A rare and successful transboundary partnership between the two sites in Bhutan and India known as the Transboundary Manas Conservation Area (TraMCA) was recognized with the Tiger Conservation Excellence Award. The tiger population increased from 12 in 2008 to 26 in 2018 in Royal Manas National Park and from nine in 2010 to 25 in 2018 in the Manas Tiger Reserve.
The TX2 award was presented to Pilibhit Tiger Reserve in India for doubling the population of wild tigers since 2010. The tiger population of Pilibhit Tiger Reserve stands at 65 as of 2018.
The Head for Bhutan Tiger Center said that winning the award is an encouragement for Bhutan to continue working together with the communities and counterpart in India.
"This conservation award means a lot for Bhutan. This is the recognition of the conservation effort that our country has made in international areas. Bhutan plays a very important role, not only in the region but to the outside world as an example of conservation success," said Tshering Tempa (PhD), the Head of Bhutan Tiger Center in Gelegphu.
Samten Wangchuk, the Chief Forestry Officer of Royal Manas National Park says the award is a result of committed development partners, excellent cooperation and hard work from the communities and frontline rangers.
"It signifies that we have a visionary conservation leadership that has gone a long way because this is more of the recognition of past achievements. So, without far-sighted leadership of our monarchs and the past governments, this would not have been possible," he said.
"This is a recognition for the government of Bhutan for their commitment which helped improve the management effectiveness of the park at an international level. Last year Manas also was accredited International Accreditation for Conservation Assured Tiger Standards (CATS). That standard tells you how the park is managed in terms of tiger conservation. So, I think Manas deserves this award," said Vijay Moktan, the Conservation Director of the WWF Bhutan.
A conservation tool that sets standards to manage target species such as tigers is being implemented across all three winning sites.
The awards, which include a financial grant to assist ongoing conservation, are presented by the Conservation Assured Tiger Standards (CA|TS), IUCN's Integrated Tiger Habitat Conservation Programme (ITHCP), Global Tiger Forum (GTF) UNDP, The Lion's Share, and WWF's Tigers Alive Initiative.
Sangay Dorji