UN commits more than USD 120 M in grants to Bhutan
Sep 17, 2020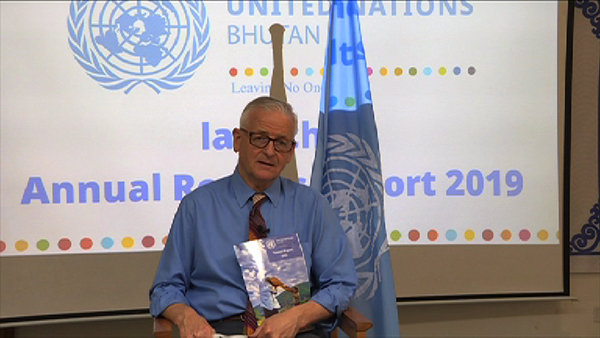 The United Nations in Bhutan committed more than USD 120 M in grants to the country through the 2019 to 2023 Sustainable Development Strategy. The grant will enable deepened investment through four key areas of partnership including strengthening data, social services, governance, and climate action and disaster risk reduction. This was highlighted during the launch of the Annual Results Report 2019, today.
The UN's work is focused on enhancing access to and use of reliable and timely data for inclusive and evidence-based policy and decision making. It also includes helping the vulnerable groups to have access to and receive quality health nutrition, protection, education, water, sanitation, and hygiene services. Climate change and disaster reduction are also one of the areas of partnership.
"We are literally working with all the ministries and Gross National Happiness is giving us guidance and advice. I would have to say that in this support, as much as possible we are always trying to do three things. we are always trying to focus on helping the most vulnerable, we are always trying to focus on capacity building for the CSOs and also capacity building for our great partner, media," said Gerald Daly, the Resident Coordinator for UN Bhutan.
Highlighting their achievements, he said more than 800 children with disabilities accessed education in 18 schools across the country, 398 children benefitted from women and child protection unit services in 14 districts and distribution of sanitary pads in 105 remote schools including three special institutions and 17 nunneries.
"So, some of the key highlights that the United Nations have achieved during the year was, we were listening very closely on accountability from the Royal Government of Bhutan and we did that. in producing these report, we are showing that we are focusing on the most vulnerable in this country," he added.
Today, there are 26 UN agencies in the country.
Pema Seldon Tshering