The breaking down of fuel station at Tungkutenpa in Panbang continues
Sep 14, 2020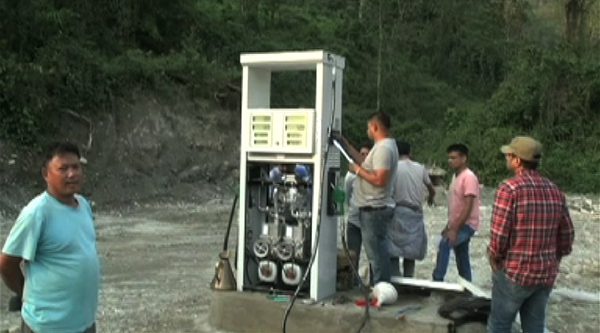 The fuel station at Tungkutenpa in Panbang came as a solution to the longstanding problem in the region some two years ago. Residents in Panbang no longer need to go to Nganglam or Zhemgang to refuel their cars. However, the solution turned into a problem with the depot's fuel dispenser breaking down time and again.
It has been about a month since the fuel station of Damchen Petroleum along the Panbang – Nganglam highway remained closed despite having reserves. And it is for the same old reason – a malfunctioning pump.
Many motorists are annoyed when they have to leave the station without refuelling their cars. They feel, during times like today, it is important to keep the service, which is among the essential ones, operational.
"The problem started as soon as the station opened. Commuters face the brunt of a non-functional fuel pump. At times, it lasts for weeks and even months. As a result, we have to refuel our car from Nganglam or Zhemgang," said Pema Dorji, from Panbang in Zhemgang.
"Last time, I bought fuel from Nganglam because fuel depot officials out here tell us to wait for few days, but the few days never end," said Choden, also from Panbang.
"Thinking that there is fuel at the station, we come from Goshing to refuel our car. But when we reach here, the fuel pump is out of order. It happens quite frequently and we have to return without refuelling our cars," added Jigdrel Wangchuk, from Goshing.
According to the fuel station's manager, despite several attempts by locally available mechanics, the fuel dispensing machine's sensor could not be fixed. The management has informed the COVID-19 task force about the problem. If the COVID-19 protocols allow, they are planning to bring an expert from the Indian Oil Company's office in Assam. The problem also persists due to the seepage of rainwater into the reserve tank due to a lack of proper shelter at the depot. The management of Damchen Petroleum already wrote to its Indian counterpart about constructing the additional structures.
As of now, the fuel depot has around 8000 litres of diesel and 6000 litres of petrol in reserve.
Pema Samdrup
#Update: However, the Damchen Petroleum says it has only been 15 days since the depot stopped dispensing fuel.