Lockdown in Samtse uneventful but effective
Aug 12, 2020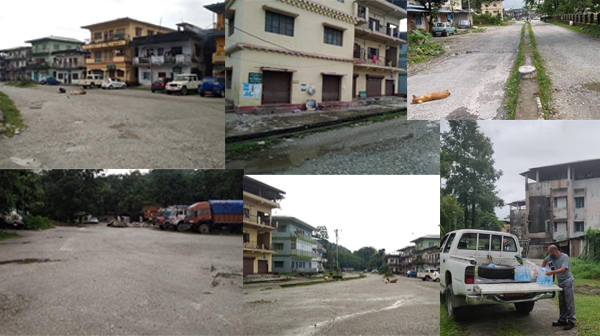 Except for a 24-year-old woman, who came out drunk and shouting in Dorokha town last night, the first day of lockdown in Samtse passed by without any major events.
Samtse, being one of the largest Dzongkhags is divided into four sectors to tackle this pandemic. Despite an immediate lockdown, people have complied well with the lockdown regulations in the district.
In Dorokha, the delivery of essential food items to people was in place before the lockdown was enforced yesterday morning. According to Drungpa, delivery of essential items to people in the villages began five days prior to the lockdown.
Likewise, medicines are also being delivered to villages. The Drungpa said that a few people unaware of national lockdown had reached Dorokha hospital yesterday morning to get their medicines.
In Tashichhoeing Drungkhag, which has five gewogs, officials did not have to deliver food essentials so far. However,farms shops in the Gewogs, wholesalers and retailers in Gola and Belboteng towns have been identified to deliver food items when people place their orders.
Essential medicines have been delivered to a few villages yesterday, which include the delivery of medicines to a kidney patient in Tendruk gewog. The Tashichhoeling Drungpa said that people are staying home.
In Gomtu sector, the region's taskforce activated its own lockdown plan when the national lockdown was announced. The CEO of Penden Cement heads the sector's taskforce and according to him since Gomtu is cut off from the rest of the country, some vegetables had to be imported from India as internally sourced vegetables were not enough.
The region's taskforce committee also facilitated import of essential medicines from India, which are not available at Gomtu Hospital. Several truckers and a few families were struck in Gomtu but the sector's taskforce has facilitated accommodation and food for those stranded.
The Samtse sector headed by the Dzongda shared that security cards for essential service providers were not in place, which hindered the movement of service providers. The sector also shared that people in villages had no issues with food commodities and it was working people in the town who requested food supplies. Samtse sector too saw good compliance from people and the dissemination of essential contacts through social media was found to be effective.
Meanwhile, surveillance across 15 gewogs has been stepped up. Close to 300 additional Desuups were deployed to monitor lockdown in all Gewogs. Border surveillance has not been disturbed by the national lockdown.
Sherub Dorji