PDP on the legality of selling tobacco products by the government's outlet
Aug 4, 2020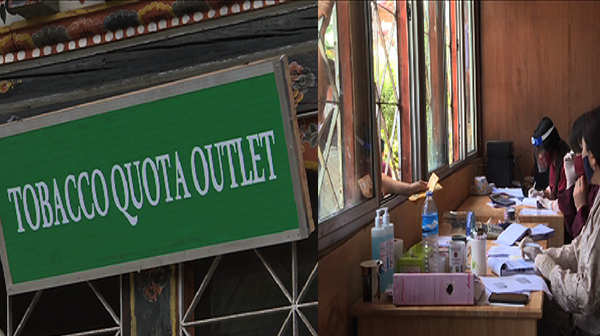 People's Democratic Party (PDP) calls on the government to explain to the country why the act of selling tobacco and tobacco products by the government's outlet is not in violation of the Tobacco Control Act. Section 11 (b) of the Act states that no person shall manufacture, supply or distribute tobacco and tobacco products.
Sale of tobacco and tobacco products from the tobacco quota outlets in Thimphu and Phuentshogling started a few days ago.
According to Namgay Tshering, the Finance Minister, protecting the country is important as rampant smuggling is happening along the border area which might transmit COVID-19 in the country. "If we don't take this step, the prevention measures that are in place at borders might go to waste. We need to respect the Act, and equally, we need to explore means in the present situation," said Lyonpo.
However, PDP is questioning the government's moral authority for blatantly transgressing section 11 (b) and calls on the government to follow the due process of law. The party also called upon the Opposition Party, Bhutan Narcotics Control Agency (BNCA), National Council and media to hold the government accountable for transgressing the law. However, the party also expressed their gratitude to His Majesty, the government and the health workers for their tireless effort.
"The Act should be amended if the government felt that smugglers might transmit the virus in the country. If there is an urgent need, they can amend it by calling for an urgent session for both Houses. Or they can get a Royal Decree to sell the tobacco products before the amendment of the Act," said Tandin Wangchuk, a member of PDP.
Whereas the Finance Minister says the line between in accordance with the Act and against the Act is so thin that it can be interpreted either way. "When we look on one side, it is not against the Act but on the other side, it can be seen as against the Act. And in between, even a few second is important during such a situation. There are 450 kilometres along the border areas. Those who go out and those who enter the country are mainly for smuggling of drugs and tobacco products. And if we can initiate that no one needs to cross the border nor enter the country, it will help in preventing the transmission," Lyonpo added.
And the Minister said that the Tobacco Control Act is expected to be tabled in the upcoming session for amendment. There are some 250 cases in connection with smuggling of tobacco and drugs since March.
Bhutan Duty-Free Limited's tobacco quota outlets sell tobacco and tobacco products as per the permissible quantity per month. The outlets sold products to some 290 people in Thimphu on Monday alone, and about 680 people in Phuentshogling in the last two days.
Tshering Zam