Pest outbreak in Thridangbi, Monggar worries maize farmers
Jul 1, 2020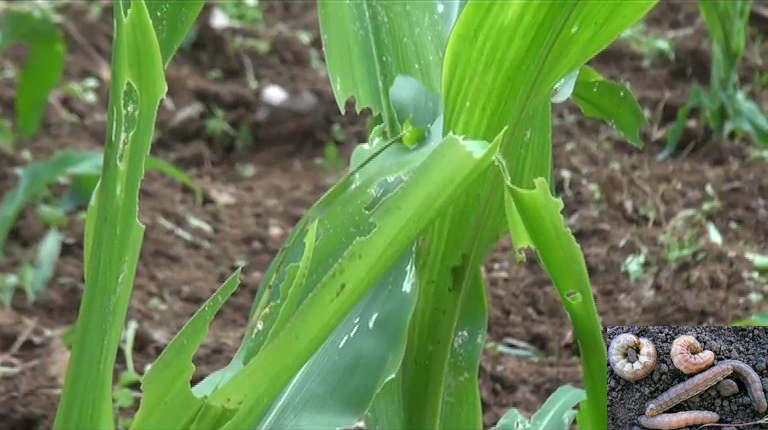 With an outbreak of Cutworm and Armyworm in maize plants, farmers of Thridangbi Chiwog in Saling, Monggar are worried about the yield this year.
Ther are ninety-two households in the chiwog including four Gungtongs. While the outbreak has been reported across the Chiwog,  twenty-seven households in Kharshitong and Serzhithang villages have been severely affected.
The Cutworm is a larva of the moth species. Most cutworms are nocturnal in nature. They feed on crops during the night and hide inside the soil during the daytime. This unusual habit makes it difficult to detect the worm. While the Armyworm is a lepidopteran pest that feeds in large numbers on leaves and stems causing major damage to plants.
Farmer Kuenzang Mo said that in the past they had experienced the pest attack once but gradually the outbreak went away. "Once the worm starts attacking the maize plants, the harvest goes down. And plants die when it suffers major infestation."
Maize is the staple food for the farmers of Thridangbi and their main source of income. Each household earns an average of Nu 100,000 by selling flattened maize every year.
Farmer Tshewang Dorji said that maize is the only source of income for them and through this, they manage their household and expenses of their school-going children "This year we could harvest only 400 kilograms of maize. In the past, we used to harvest 1000 kilos of maize."
Meanwhile, while some of the affected households have reported the issue to Saling Gewog Agriculture Extension Supervisor and have received insecticides, some were not able to get it as they had not placed an advance order last year. The Agriculture Extension Office only provides insecticides based on advance order.
Farmer Tshewang Dorji said that they would be encouraged to take up agriculture farming if they are provided with insecticides. "When there are such pest attacks we feel very upset and feel that no use of doing maize cultivation. "
Besides cutworms, wild animals are also creating a nuisance to the farmers of Thridangbi.
Farmer Kuenzang Mo said that deers and porcupines also attack the maize plants and even eat the Napier hedgerows that are planted in between the maize plants.
To tackle the human-wildlife conflict, Saling gewog administration has provided electric fencing to few needy households and has also prioritised electric fencing for the Chiwog in the 12th FYP.
Meanwhile, the Dzongkhag Agriculture Officer said that they would be visiting the affected households to assess the extent of damages caused by the pest outbreak and carry out necessary interventions.
Sonam Tshering