US Department of State recognises Lt. Col Karma Rigzin for her leadership role to combat trafficking
Jun 29, 2020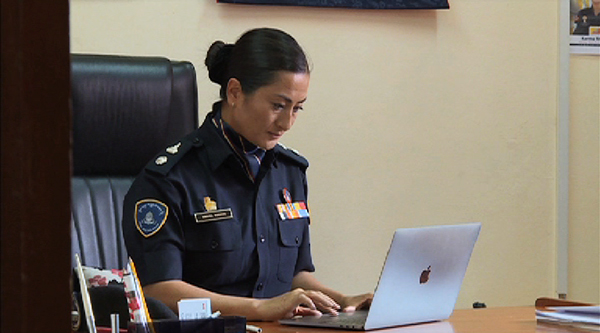 Lieutenant Colonel Karma Rigzin, with the Royal Bhutan Police and a mother of one, is listed among 10 heroes honoured by the US agency for their efforts in combating human trafficking. She is like any other woman who protects her home but has equally devoted her life to fighting against human trafficking in the country.
43-year-old Karma Rigzin was commissioned in 2002 as a young officer with the Royal Bhutan Police. She is one of the three senior most ranking policewomen officers in the country. Today Lieutenant Colonel Karma Rigzin serves as Additional Superintendent of the Royal Bhutan Police heading Woman and Child Protection Division. Her journey to combating human trafficking started in 2006 when she stood up Bhutan's first specialised unit within the Woman and Child Protection Unit to handle all issues relating to women and children, including human trafficking, and provide victims with a more secure environment to report human trafficking crimes. The following year, the unit already identified and prosecuted Bhutan's first criminal case involving human trafficking charges.
Talking to BBS, she recounts the trafficking case involving a 16-year-old girl. "What happened was we received an anonymous letter. I think the person was being very responsible to actually report a crime. The initial complaint said that this person could hear a woman crying in a room. Her movements were restricted. And she was never allowed to go out. So at that point of time, we worked together with the then Director-General, Dr Rinchen Chophel of the National Commission for Women and Children. We followed the rule of law. We got the search warrant. We found out that a 16-year-old girl was brought to Bhutan from Darjeeling in India. It was somebody known to the family. She was promised she will be taken around Bhutan and sent back home. But what happened was, she wasn't allowed to go out. She was made to do manual work in the house. There were also allegations of the husband of the perpetrator touching her and molesting her. These are cases where it is difficult to prove. It is a child's words against an adult. So we were not able to prove child molestation when we went to court. We got in touch with her family. We facilitated the mother to come and pick her up," she said.
As RBP was still prosecuting the case during those days, it was Lt. Col Karma who prosecuted the case. The case also received the conviction.
Recognising her efforts to get a conviction in this case, Department of State this year recognised for her leadership role in increasing efforts to combat trafficking in Bhutan. She has elevated the investigation of human trafficking issues to a central objective of the Woman and Child Protection Division she leads. She has also developed innovative practices for compiling human trafficking-related data and was responsible for establishing a human trafficking awareness programme for Bhutanese citizens travelling overseas for employment. She played a central role in efforts to amend the Bhutan Penal Code to align its legal definition of human trafficking with international standards. Over the years, she has trained immigration officials, senior police officers, and non-commissioned officers on the identification of trafficking victims and investigation techniques and has successfully advocated for increased funding for trafficking victim services.
Speaking about the honour, she says it will further motivate and inspire her to work more in combating and protecting trafficking victims. "Not just trafficking in person but also any issues related to women and children is really close to my heart and also because I was given the responsibility of starting the first unit. The unit has successfully solved many cases. Because of that, we have replicated such units in a lot of districts."
Talking about her challenges, she said other than the lack of understanding about trafficking among people, she said as a mother and an officer, it is always an option between the two. "In terms of being a mother, I think there is always a challenge there because the work that we do always involve travelling out of the station and you are not with your family most of the time. But I think that's when your spouse plays a very important role, your family plays a very important role. Also, your in-laws play a very important role. So for me, I have been very lucky that I have a very understanding husband and I have a 10-year-old daughter who is in class five and I always explain how important it is for me to go out and help others who do not have both the parents. She is matured more than her age also because of the work that I do," she added.
She added that being a mother makes her even more responsible to protect women and young girls and boys. Are there more challenges on the way? Definitely! But she is even more prepared.
Samten Dolkar