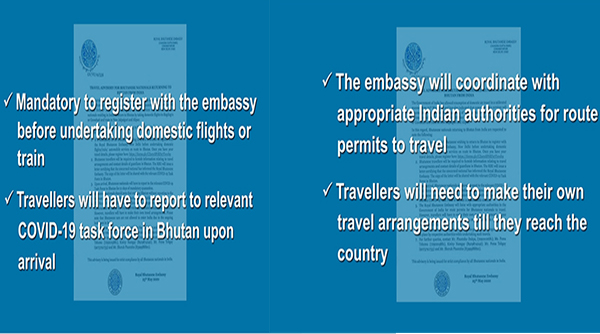 Bhutanese residing in India wishing to return to Bhutan can now take domestic flights to Bagdogra or Guwahati and train to New Jalpaiguri and Alipur. This comes after the government of India allowed resumption of domestic air travel in a calibrated manner from 25th May and recommencement of train services from 1st June.
The Royal Bhutanese Embassy issued a travel advisory yesterday.
Travel advisory from the Royal Bhutanese Embassy states that it's mandatory for all Bhutanese wishing to come back to register with the Embassy before undertaking domestic flights or train en route to Bhutan. The travellers are required to provide information relating to travel arrangements and contact details of guardians in Bhutan. The Embassy will issue a letter certifying that the concerned person has informed the embassy and a copy of the letter will also be shared with the relevant COVID-19 Task Force back in the country. Upon arrival, they will have to report to the relevant COVID-19 task force in Bhutan for the mandatory 21-day quarantine. The advisory states that entering without reporting to the relevant COVID-19 task force is a punishable offence.
The embassy will communicate and coordinate with appropriate authorities in India for route permits for Bhutanese nationals to travel. However, the travellers will have to make their own travel arrangements till they reach the country. While undertaking such travels, the travellers are required to abide by the guidelines and regulations put in place by the respective authorities.
India's Civil Aviation Minister on Wednesday last week took to Twitter to announce that domestic flight operations will begin in a calibrated manner from 25th May. Flights in India were stopped in late March when the country went into lockdown to slow the spread of the coronavirus.
Sonam Pem