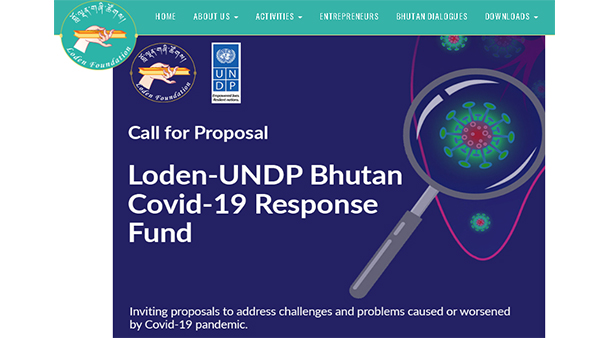 In the middle of difficulty lies opportunity. And this is true for 10 young Bhutanese aspiring and existing entrepreneurs who have found ways to contribute to the country's COVID-19 response with their innovative business ideas.
They were recently selected through the Loden-UNDP Bhutan COVID-19 Response Fund to address challenges and problems caused or worsened by the COVID-19 outbreak using innovation and technology. They are provided with an interest and collateral-free loan of up to Nu 1.5 M.
Eupel Dakini Dorji's business proposal of dehydrating vegetables was one of the recently selected Loden-UNDP Bhutan COVID-19 Response Fund business proposals. Through the fund, Eupel and her team of seven members will scale up their business using high-tech equipment. She got an interest and collateral-free loan of Nu 800,000 for her business.
"During this COVID-19 pandemic, there was panic buying at the beginning. Vegetables were bought in high quantities, which I don't think is reasonable because vegetables are perishable. But if you could dehydrate them because some of the dehydrated vegetables last for two years, they have a large shelf life. So even if we buy and if we could dehydrate them then I think that there is sustainability, there is availability in offseason," said Eupel Dakini Dorji, the founder of Bhutan Yoedhen Farm.
Besides vegetable, she will also focus on fruits and mushrooms and partner with local farmers to sustain their business in the future.
"There is much wastage of vegetables not because they are rotten but because the farmers and sellers cannot sell all. So when these are not able to get sold, it gets wasted. So I feel that if I could dehydrate them and make it available during off-seasons and make sustainable then there will be less wastage," she added.
Similarly, business proposals ranging from making face masks and producing vegetables to collecting wastes from the quarantine facilities are some of the selected ideas.
"All these 10 business ideas we have supported in a very short span of time is very important and timely and unique at the same time because the proposals we have supported are directly addressing the issues that have been worsened by the COVID-19 pandemic. For example, if you look at the 10 business proposals that we have supported, out of the ten, seven of them are into the agriculture sector, particularly producing vegetables. We all know that currently, we are facing this challenge of this continuous supply of fresh vegetables that we require," said Phuntsho Namgay, the Executive Director of Loden Foundation.
The executive director of the Loden foundation added that they will ensure that the 10 selected business proposals continue even after the COVID-19 situation becomes better.
"So sustainability of the businesses are quite important and which is why I think that the role of Loden Foundation and UNDP Bhutan comes in because not only this is a support for financial assistance but support in other areas such as business mentorship, helping them connect with different entrepreneurs or different market, helping them with networking opportunities and so on and so forth so that even after post-COVID-19, we are together in a position to make sure that their businesses are operational," he added.
Loden Foundation and UNDP Bhutan are funding the 10 selected business proposals at a cost of  Nu 7.6 M.
Sonam Pem