Private bus owners help govt to bring in stranded Bhutanese from Bagdogra
Mar 25, 2020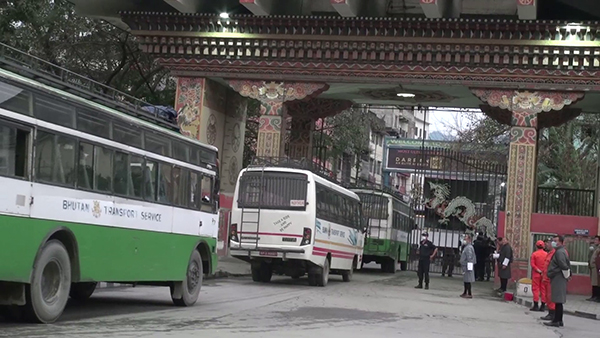 A group of bus owners came together to support the government pick up the stranded Bhutanese students from Bagdogra airport in India since the 22nd of this month. Till date, they were able to bring in about 400 Bhutanese from Bagdogra.
Yesterday, before the lockdown in India, they were able to bring in about 200 Bhutanese from Bagdogra. The last bus carrying the stranded Bhutanese entered the Phuentshogling gate 30 minutes before the complete lockdown in India.
Since Sunday morning, buses from Phuentshogling are seen leaving for Bagdogra to pick up students coming in from different parts of India.
Bus owners say that this is the time the country needs their support. So, they voluntarily provided the services for free.
"The bus owners here came forward to support the government in our own capacity. We are happy that our contribution has helped in bringing students studying in India. Hereafter, even if our nation needs our support at such times, we are ready to come forward," said Karma, the Chief Executive Officer for Dophu Transport.
Officials from the Road Safety and Transport Authority (RSTA) say that the support from local bus owners helped ease the mobilization of buses at such times.
"We are able to bring in students solely because of the support rendered by the bus owners. We are grateful to them for coming forward at such times. We are also thankful to other small vehicle owners who came forward to help us. I am inspired by their positive spirit," said Tila Maya Sharma, the Regional Transport Officer of RSTA at Phuentshogling.
Until yesterday, over one thousand people are quarantined and over one hundred fifty minors home-quarantined.
Sonam Penjor