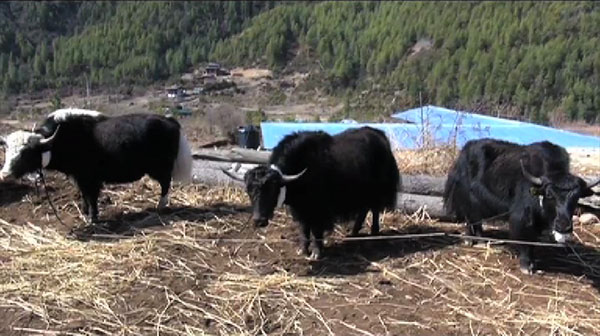 To foster the cross-boundary cooperation for conservation and development of Yak, the Department of livestock, Ministry of Agriculture and Forests handed over two best quality yaks to Nepal and 0ne to Sikkim yesterday.
The yaks will be transported to Nepal and Sikkim as Yak breeding specimens. From the five samples three were selected for their size, shape of horn, darkness of their fur and tails. These features according to experts are the pure yak breed and gives better milk and meat productivity.
"Comparing to the Yaks at our place, yaks here are much bigger and has thicker hairs. We heard that milk and meat production is also higher. We are looking way forward from just meat and milk, therefore, we came to look for a better breed," said Janga Bdr Rai, a Yak Herder from Nepal.
"Like here yak is our main source of livelihood back at our place. It can help us carry our loads, when it matures we can sell it. We produce cheese and butter and the money that we make from selling it helps our children with expenses. Currently one kilogram of cheese fetches us Rs 1200," added Samten, a Yak Herder, from Sikkim in India.
Officials from the department of livestock in the country said they are happy to share this yak breed (germplasm). This is the initiative of trans-boundary cooperation between Bhutan, India and Nepal.
"It was found that Bhutan has the best quality of Yak breed and we are taking pride in sharing this yak genetics to these two countries. We are giving two male yaks to Nepal and one to Sikkim. It was found that among these three countries, Bhutan has the best breeds of yaks," said Towchu Rabgay, the Chief Program Officer at the Department of Livestock.
"Our farmers want the best breed, and from the near relatives of the yaks, the inbreeding problem arises. Therefore we are looking beyond the borders in our neighbouring countries to help our farmers. There are five yaks here, we selected the best one and the second-best is going to Sikkim and the third-best quality is also coming to Nepal. It will go along with the experts and officials from our department," said Dr Banshi Sharma, the Director-General of Livestock in Nepal.
The yaks were procured from the herders with fundings from the International Centre for Integrated Mountain Development (ICIMOD).
"This is the beginning of a formal symbolic exchange of genes in a materialistic way, but new innovations are there such as artificial insemination and technologies involved. This is only one initiative that has been taken forward as regional cooperation. But a long way to go in terms of market linkages and product diversification, value addition to the products and then to have a network of yak herding," shared Nakul Chettri (PhD), the Program Coordinator at the ICIMOD in Nepal.
Such an exchange programme to preserve and promote yaks, which play a significant role in the ecosystem management and food security of the highlanders aims to highlight and confront declining yak herders.
Namgay Wangchuk