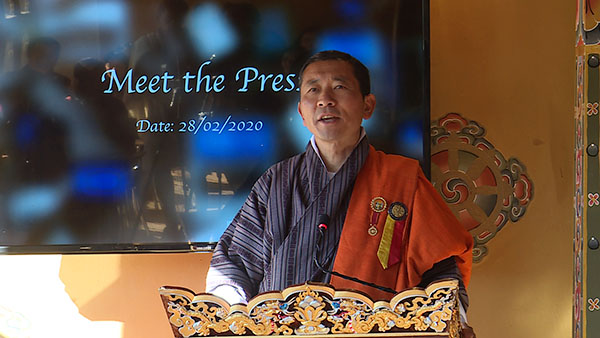 In the latest development towards realising the government's plan of starting an electric train service between Paro and Thimphu, works have begun to establish a project office under the Prime Minister's Office (PMO).
Prime Minister Dr Lotay Tshering has asked the relevant stakeholders to ready the documents for the train service project by next month. Lyonchhen shared this during the Meet the Press Session today.
The Prime Minister shared that the government is confident about starting the electric train service between Paro and Thimphu although there are no written documents yet.
He also said that formal dialogues with the Royal Civil Service Commission (RCSC) have already started and the Commission is supportive of this initiative. Discussions are ongoing with the Commission to recruit officers to operate the project office.
"I have also asked my personal secretary to work with RCSC and Gross National Happiness Commission to open a project office under PMO on this because if we wait thinking it will happen then things do not move. So that's why under the PMO I would like to have a project office. The formal consultation with RCSC is already done. I wanted two or three mid to senior-level officers, in fact on a very happy note the RCSC said that it would be good if it's even headed by an Executive," said Dr Lotay Tshering, the Prime Minister.
The Prime Minister said that the government planned on starting the electric train service between Paro and Thimphu in the first phase considering the economic viability of the route.
"As of today my theme is mainly for tourists, it's is mainly for a joy ride. To me, it's going to be like a giant natural roller coaster. Maybe we will start from Paro crossing Dongkola and suddenly you drop down and climb up at the tip of this education city hill and land somewhere at Gidakom hospital and end somewhere in Kuensel Phodrang. And then there we will make a giant parking lot with a lot of activities, social and cultural with a theme park. And there instead of tourist agents going to Paro to receive them, the buses will be waiting there. Every trip maybe a hundred dollars. And within one or two years, the billions of dollars we need to invest now will come back. And that is what I am thinking. I am just sharing the background. So that's why from every point of view, it looked feasible to me," Lyonchhen added.
The government also plans to start a similar service between Phuentshogling and Thimphu in the second phase and towards the east in the third phase. The Prime Minister said this is probably the beginning of a new chapter for the 21st Century Economic Roadmap.
The Prime Minister announced during 21st February that the government will start electric train service between Paro and Thimphu as His Majesty's 40th Birthday gift.
Sonam Pem & Phub Gyem