RMA contributes Nu 1 M for the Snowman Run 2020
Feb 10, 2020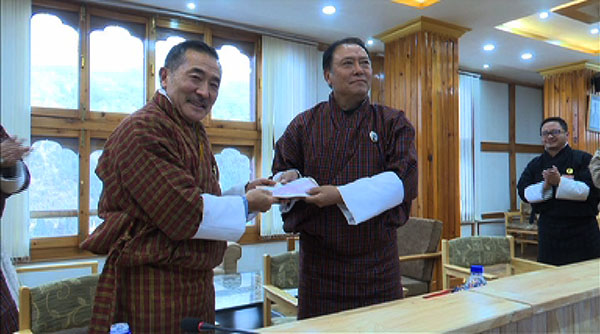 The Royal Monetary Authority contributed Nu 1 M to Snowman Secretariat for the Snowman Run 2020. The snowman run 2020 which is one of the biggest events that Bhutan will conduct will test strength, resilience, and willpower for the most daring and fittest athletes.
And beyond that, it is a race against climate change. The Secretariat also met with other financial institutions to gather funds for the event. The first edition of the race which will be held in October this year is estimated to cost around USD 1.5 M.
Starting from Gasa, the runners will cover over 300 kilometres. They will climb an altitude of 5,320 metres above the sea level, and end their marathon in Bumthang. The race which will last for five days is estimated to be the world's toughest and challenging race.
"The budget we mention about USD 1.5 M is to conduct the race. Obviously, we are looking for more funds because through this snowman run, we want to have many other activities to really combat climate change. For example, it could be a tree plantation challenge that we could throw out to the world. The leaders' forum we talked about earlier, climate leader forum, so we will have similar activities which will require some funds. So that's why we are looking at not just the USD 1.5 M, probably, if we manage to get more partners, we can do a lot more activities through this snowman run," said Damcho Rinzin, from the Snowman Secretariat.
The ultra-marathon is expected to challenge the world's fittest and most elite runners to help raise awareness on the impacts of Climate Change. The runners will familiarise firsthand experience of highland communities in Bhutan and the challenges they face due to climate change.
There are 20 slots available for international runner and 5 for Bhutanese.
Samten Dolkar