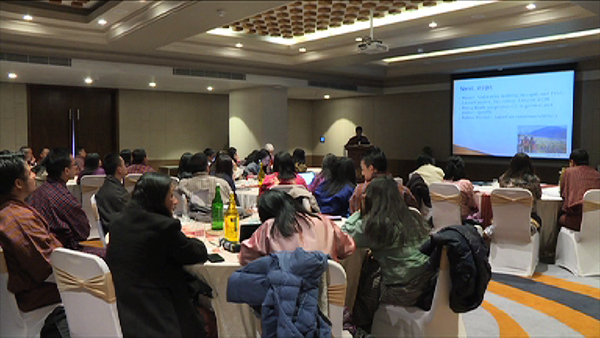 With rising temperatures and erratic weather conditions, women are bearing the brunt of the worsening impacts of climate change globally. Bhutan's first study on gender and climate change finds that climate issues increase existing inequalities, affecting and burdening women more than men.
The preliminary findings were presented at the validation workshop yesterday in Thimphu.
Women and men are impacted differently by climate change. In many developing countries, men work away from home while women cultivate tiny plots of land to produce food for their families. Climate change directly affects their ability to grow crops. In addition, women often face barriers to basic education, employment and owning properties. This often renders women voiceless and are vulnerable to its adverse effects.
"For example in agriculture, there are more women becoming responsible for agriculture here in Bhutan. And when the circumstances become difficult, they have to put in more time and effort to have the same production. When it rains heavily then you lose your crops. And if you are responsible for producing the crops then it has become more difficult. If you are responsible for collecting drinking water then you have to walk further away and then you are more exposed, for example girls who are exposed to violence," said Irene Dankelman, an International Consultant.
But by paying special attention to the different needs and contributions of men and women, gender-responsive climate actions and policies not only address climate change but also reduces gender inequalities and empower women.
"If women are not participating in the decision making or in building the ideas or in sharing their priorities and needs, then climate actions which are being taken might get neglected. Women also have a lot of traditional knowledge systems which we might not know about if we don't involve them. So in order to be involved, they need the power to speak out to have their voices heard. And so to make climate action more effective and to also help in building more equality amongst women and men, we really need to have more participation in those processes of both women and men so that we become more responsive to their needs, priorities, their views and their knowledge," she added.
She added that effective projects will ensure equal benefits. For example, a climate project that will fund sustainable public transport: Do women feel safe while using the system? Can they afford the fare? Without answering these questions, the project will not serve a large part of the population. The preliminary findings highlighted that climate action that disregards half of the population cannot be efficient or effective. Gender-responsive climate projects or policies should take women's needs into consideration to make it equitable, effective and efficient.
Thus, the study will help Bhutan to come up with responsive climate policies, adaptation strategies and mitigation. The study has emphasized on three priority areas of agriculture, energy and waste.
"And under numerous sectors of the Nationally Determined Contribution, we have selected three sectors because of the demographic distribution of men and women in these sectors and also the sequestration and emission level of the carbon in these three sectors. And the study was also conducted to come up with concrete recommendations mainly to integrate gender and climate in these three sectors and the study will help us to understand the differentiated impacts of climate change on men and women in these three sectors and how men and women contribute differently to climate change," said Deki Yangzom, the Program officer at National Commission for Women and Children.
The study was carried out by the National Commission for Women and Children and the National Environment Commission with financial and technical assistance from the United Nations Development Programme. The final report will be launched next month coinciding with the International Women's Day.
Sonam Pem