Govt. doing all it takes to be prepared in case of an outbreak of coronavirus
Jan 31, 2020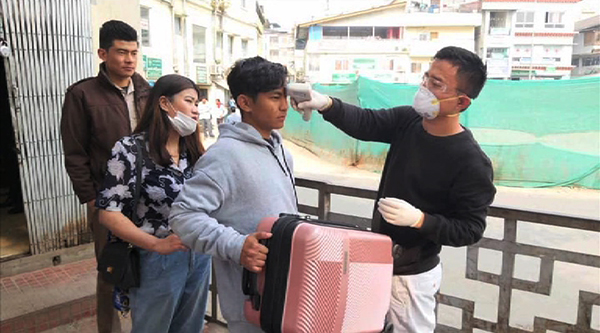 Concerned with the recent outbreak of coronavirus in the region, Member of Parliament of Chhumig Ura asked the government about its plans to prevent the spread of the virus in case of an outbreak in the country. The government said it is doing all it takes to be prepared.
"In Thimphu, we have identified 25 beds in the old Mother and Child Care building and we have placed ICU equipment in it. In Paro and Phuentshogling, we have asked the hospital to keep 6 to 10 beds empty. If the case becomes worst, we will empty Gidakom hospital and transfer the patients to Thimphu and will allot the hospital for patients suffering from coronavirus. Also, we will vacate Paro hospital and will keep patients affected by the virus there," said Dr Lotay Tshering, the Prime Minister.
Lyonchhen also said that the government has directed officials in international entry points such as Paro Airport, and Southern border regions to quarantine suspected cases. This is expected to prevent the spread of the virus in the country.
He added that the government has also proposed to procure full-body infrared scanner worth Nu 700,000 to be placed in places like Phuentshogling where population density is more and individual screening is difficult.
Meanwhile, at the Meet the Press session this afternoon, Lyonchhen said the government might consider postponing the re-opening dates for schools across the country if the situation demands.
"We have not decided anything on it as of now. it will depend on the situation. In a day, almost 2000 cases are being reported. If this happens in the neighbouring countries, although we should hope it doesn't reach our country, in case it does we will have to decide depending on the severity of the situation. If we see the need to postpone the dates, we can also do so within a short span of time. What I am saying is we are preparing and looking into how to tackle the situation if the situation calls for. This can be decided a few days before the announced dates also. In case a student is infected in a school, he can spread it to around a hundred others within a few hours. So we are saying that all these aspects are being looked into when we say we are prepared," Lyonchhen said.
Coronavirus has killed over 200 people and infected many in China, most of them in the city of Wuhan where the virus first originated. Outside mainland China, there are over 100 confirmed cases, including in countries such as Thailand, India and Nepal, the most visited country for Bhutanese people.
So far, a travel advisory has been issued by the Health Ministry. Bordering areas also started screening people coming from other regions with Infrared forehead thermometer. Several teams and health experts are also spread in these areas.
Samten Dolkar