Inclusive green finance- combating climate change
Jan 22, 2020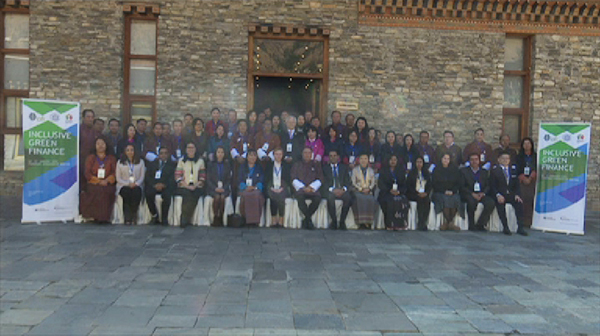 Climate change poses a big threat to the country's economy. One of the solutions to mitigating this risk has been identified as Inclusive Green Financing which involves providing financial services for climate action and related projects.
In this regard, a three-day joint learning program on inclusive green finance is underway in Thimphu.
Despite conservation at the forefront of development in the country, the impact of climate change is inevitable. According to the Alliance for Financial Inclusion (AFI), the effects of climate change are already visible.
"We can see the effects quite differently, rise in sea levels, it can be hurricanes and storms, increasing temperatures and melting glaciers. These effects can also be seen here in Bhutan in a number of different ways and it will be increasing in the next decades to come. It is important to see that Bhutan as a country, as a whole, comes together to mitigate and adapt to climate change. And inclusive green finance is one part of those efforts," said Johana Nyman, the Head for Inclusive Green Finance at AFI.
Inclusive green finance is all about how financial regulations can enable financial inclusion that builds resistance and enables mitigation to climate change.
"There are so many initiatives happening at the national level in Bhutan when it comes to climate change and environmental protection and having a strong green finance component of that will even make it stronger and hopefully more efficient as well. It's all about protecting the people from the effects of climate change and to the possible extent stopping climate change," he added.
Royal Monetary Authority (RMA) as the central bank, on the other hand, is working to come up with a framework to engage banks towards lending environment-friendly projects. According to RMA, they are taking the lead with AFI's endeavour to develop a common framework which can be followed by all member countries. RMA says Bhutan is way ahead of other countries in terms of pursuing inclusiveness as well as green financing.
"As it is, all loans are actually green finance because environment clearance is one of the criteria for assessing a loan from a bank. Now when you package it as green finance then it becomes very attractive to the outside world and it also becomes very meaningful within the country saying that we are actually environmentally very conscious. Even if you take a loan and do business, we are very much within the consciousness of following strong principles of environmental protection," said  Dasho Penjore, the Governor of RMA.
The conference is also expected to help with capacity building through knowledge sharing by participants from different countries.
Kinley Dem