Northern Bypass road project I almost complete, Phuentshogling
Jan 14, 2020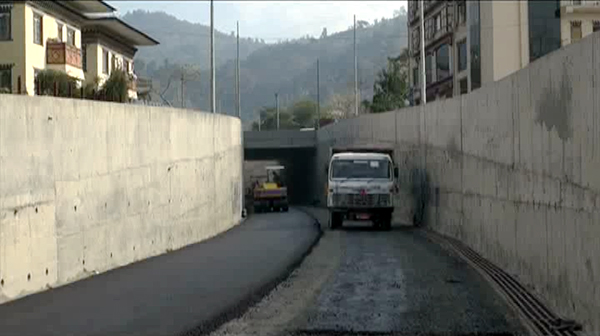 The northern bypass road from second entry gate till crocodile farm in Phuentshogling will be open to the traffic by the end of this month. The northern bypass road is a South Asia Subregional Economic Cooperation project and has two packages.
While the first package is almost complete, works on the second package is going on full swing. The two kilometres stretch under the first package has a four-lane road from second entry gate till crocodile farm. The first package includes the first-ever forty metres underpass in the country too.
"The underpass junction is basically designed to facilitate the movement of vehicles underneath the surface area as well as to maintain the traffic at the surface area. Currently, around 95-98 per cent of the works under package 1 is complete," said Devi Charan Dhimal, the Project Manager for South Asia Subregional Economic Cooperation Road Connectivity Project under Phuentshogling Thromde.
To decongest the ever-increasing traffic in the core town of Phuentshogling, the northern bypass road project was initiated in September 2017. Although expected to be completed in August last year, it was delayed by a few months. The bypass road which is 2.66 KM in length will connect the Mini Dry Port to the east with junction to Samtse-Phuentshogling highway and follow the northern bank of Omchu with connection to the Phuentsholing-Thimphu highway (near RBA cantonment). A 120-metre length of a curvilinear bridge will be constructed over Omchu at upstream of existing Archery Range connecting the Thimphu-Phuentshogling highway.
Nearly seventy per cent works on the second package are also complete. However, due to some land issues, it is expected to be opened to traffic only by September this year.
"The 2nd package of the northern bypass project consists of 600 metres of road stretch and 120-metre bridge. This bridge is quite unique. Usually, bridges are straight in length but this one will be curvilinear in structure," the Project Manager added.
The northern bypass road is being built with a grant of nearly Nu 450 M from Asian Development Bank.
Sonam Penjor