Art camp to engage youth in the east in creative art
Jan 14, 2020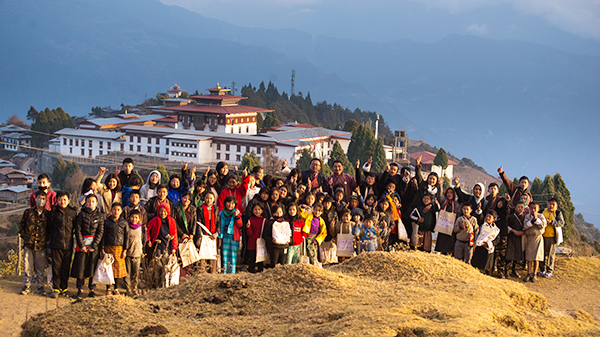 To engage youth in meaningful activities during the winter vacation, a weeklong youth art camp was organized in Drameste Central School in Monggar recently. Visual Artists Studio of Trashi Yangtse organized the camp to provide a platform for school children to develop artistic skills. 
Over the weeklong programme, about 100 students from schools in Monggar, Trashigang and Trashi Yangtse were taught contemporary and traditional arts, basic elements of pencil sketching, English poetry, acrylic painting techniques and social responsibilities and life skills by different facilitators.
"If I stay at home, I would not be doing anything productive. I would be watching television. By engaging in such an art camp, I made new friends and gained a lot of knowledge. Also, it is for the first time that I am seeing acrylic paintings and canvas board in my life," said Tshering Choezom a student of Drametse Central School.
Haiku poetry writing, a combination of poems and paintings was one of the activities the participants enjoyed the most.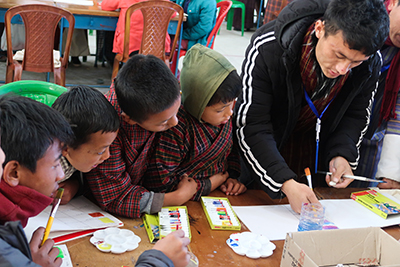 "It really inspired me as I have learnt so many things such as paper crafting, traditional and contemporary paintings. Of everything, one special lesson I learnt was Haiku poetry writing which is very new to me," said Thinley Namgay from Yadi Central School.
"I learnt paper crafting, creating files and photograph frames but Haiku poem writing was the most interesting activity during the camp," added Ugyen Wangmo from Drametse Central school.
Jigme Dorji, a teacher by profession in Trashi Yangtse Dzongkhag who established the Visual Artists Studio of Trashi Yangtse in 2012 organized the art camp.
"I have seen lots of children are at home just watching television and some are playing games. So I thought it will be nice to engage them in a creative way. That is the reason we came to Drametse to organize the camp," he said.
The camp also encouraged the participants to go vegetarian by deciding to go meatless for a week. It also instilled a sense of civic responsibility among the participants by advocating on reducing plastic wastes. As part of VAST-Trashi Yangtse's green initiative to reduce plastic wastes by cutting down the use of plastic carry bags, each participant was given a handmade tote bag for free at the camp.
"During the art camp, we were able to achieve many things. But there are two special things that we were able to achieve- the camp was entirely meatless and we could save 100 and 1000s of lives of precious animals. We also tried to pledge to not carry plastic bags in schools. I felt these are big achievements of the camp," added Jigme Dorji
Making it an inclusive activity the art camp also provided a platform for artists with disabilities to display their work and talents, promote social interaction and better communication and understanding between diverse people through art.
Visual Artists Studio of Trashi Yangtse plans to conduct similar camp in rest of the eastern districts in the future. The weeklong camp was organized with financial support from the Royal Office of Media and Opening your heart to Bhutan, a charity based in the UK.
Sonam Tshering