New Umling Road maintenance to be carried out in winter only
Sep 11, 2019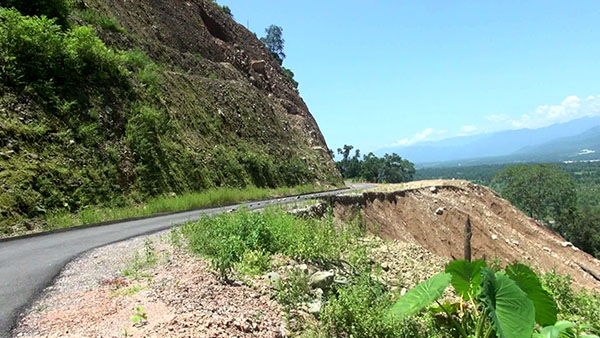 The new 7.2 KM realignment Umling Gewog connectivity road is now riddled with potholes and damaged by the heavy monsoon at several locations. 
The road connects Umling and Tareythang Gewogs with rest of the Dzongkhag. People of these two gewogs were happy with the completion of the 7.2 km realignment Umling Gewog connectivity road in July this year but their happiness did not last very long. During the monsoon, the heavy rainfall triggering landslides washed away the road at several locations and in some unfortunate incidences, the vehicles too. The matter is made worse by the falling boulders along the road.
"There is a problem because blacktopping has worn out. With little rainfall, landslides occur and filled the road with mud. If there is a possibility of clearing the road this time, it would benefit the motorist," said Thinley Dorji from Tareythang.
"Comparing to past years, now it is very convenient. In absence of this road in the past, we used to get cut off from the old route during heavy shower with the swollen river. Recently the road condition was fine but the monsoon has damaged the road at some locations and I hope it will be cleared by public works department very soon," added Thinley from Umling.
The matter has been raised during the recent Dzongkha Tshogdu by the Umling Gup. However, the Chief Executive Engineer of Sarpang informed the house that they will carry out maintenance work during the winter season.  He said it is not appropriate to carry out road maintenance this time of the year because it will not be stable and would be a waste of resource.
The 7.2-kilometre realignment gewog centre road was constructed at the cost of Nu 55 M.
Karma Wangdi.