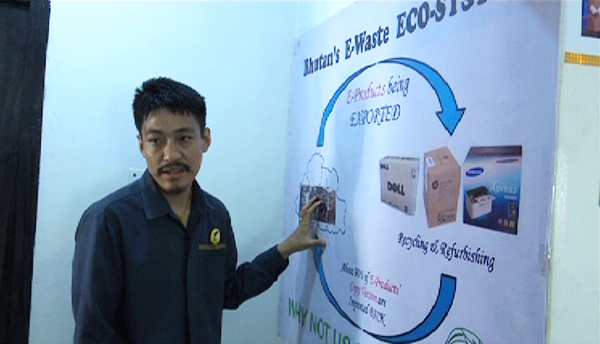 Patience and perseverance are some of the key ingredients for running a good business. A young entrepreneur Leki Dawa stands as living proof to this. Although he started out only a few years ago, today Leki runs a successful company worth more than Nu 20 M, all thanks to his patience and perseverance.
38-year-old Leki Dawa from Zhemgang started Bhutan Alternatives, an eco-friendly company in 2015. After starting out from scratch, he has reached success today all from patience and perseverance. As of now, his business is worth almost Nu 23 M. He collects used printer cartilages, refurbishes them and then sells them to customers.
"We have three motives; employment, environment and economy. How we contribute towards the employment is we help the underprivileged youth and the disadvantaged family. For the environment, we collect all obsolete e-waste from the dumping yard, offices and throughout the country. We have a youth group from the eastern, central and southern part of Bhutan. We collect the e-waste from the youths and then we pay them. In terms of economy- the imported product cost about Nu 5000 to 6000 whereas ours is Nu 700 to 800 so in this way Bhutan Alternatives contributes a small amount towards building up the economy," said Leki Dawa, the founder of Bhutan Alternatives.
He says it is not easy being an entrepreneur as there are several challenges from the beginning and throughout the journey. One of the major challenges he says is finding a good market.
"Main challenges in our country is not only for us but also for all the other entrepreneurs to sell our end product. We have less support from the government and other agencies. Though they support financially, yet in terms of product buying we get little support from the government side and the other agencies," he said.
Last month, Bhutan Alternatives also became the first company to raise funds through crowdfunding, an online fundraising portal.
"About the crowdfunding, we collected around Nu 8.3 M and this is only because of trust, people believe in us. So when the public trust us we need to prove it back. We are planning to get high technology to improve our product quality. Not only within the country but we also want to supply within the SAARC region," he shared.
But for any business to become successful, Leki says an entrepreneur must have two things- patience and perseverance.
"I always advise the young entrepreneurs, to be patient. Everything will not come within a day so it will take time, self-motivation and then only you will come to see the real success. If you work hard today tomorrow is your day. That is how you become successful entrepreneurs," he added.
 Bhutan Alternatives today has around 20 regular employees based in different parts of the country. Leki says he is planning to expand his business and take it to the international market as well.
Kelzang Choden.