Wild elephants forced families to resettle on others land
Sep 4, 2019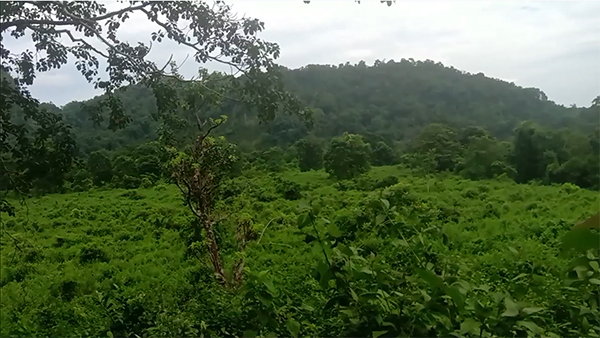 Leaving behind their homes, six households of Chumeythang under Phuntshogthang gewog in Samdrup Jongkhar resettled in Khamaedthang when the rampant wild elephant attacks on their crops and structures started to turn more aggressive and scary every year.
These victims of the human-wildlife conflict shared with BBS their experiences.
Rub Bahadhur left his village, Chumeythang, some 16 years ago. Despite owning 2.5 acres of paddy fields back home, today, at Khamaedthang, he is a tenant farmer. Even the land on which his hut is built belongs to someone else.
"I left my village and the fields due to frequent elephant attacks. At the moment, I am growing paddy on other's fields on a crop-sharing basis," said Rub Bahadhur.
He adds that amidst the hardship in a new place, there is a consolation. He is assured of the safety of his family members. But, as a father, the lingering issue of what he would be able to hand down to his two sons and a daughter always bothers him.
"I have to work so hard. In the end, the landowner takes 50 per cent of whatever I produce. I do not have any other options since my own land is not safe to cultivate," he added.
Like Rub Bahadhur, his fellow villager, Dikuri Maya Rai also settled in Khamaedthang around the same time and for the same reasons. The other four affected households are said to have left the district altogether.
"About 20 to 30 wild elephants would come in herds and damage all our crops and even houses. My house also got damaged. So due to the fear of elephants, we left our village," shared Dikuri Maya Rai
Although it has been a long time, if the human-wildlife situation is addressed, both Rup Bahadhur and Dikuri still want to return to their village and cultivate on their own lands.
"If we get solar fencing and a few others also resettle, we will be able to go back to our village and work. I still wish to work in my own fields. But at the moment, with no neighbours and solar fencing, it is risky to live there," said Rub Badhuar.
"I will return to my village if we get electric fencing. I am more than happy to do so. Working on other's lands is not easy but I have children to feed," added Dikuri Maya Rai.
The Phuentshogthang gewog administration is ready to provide solar-electric fencing for Chumeythang. But the villagers will first have to start cultivating on the 25-acre land they have left fallow.
"The gewog administration is ready to support them if they settle there and cultivate their lands. We will provide the fencing and even maintain the damaged irrigation channel," informed Jamyang Gyeltshan, the Phuentshogthang Gup.
Rup Bahadhur and Dikuri Maya are weighing the results of moving back to Chumeythang without electric fencing in place. More influenced by their past experiences, they are not willing to take any risks, at least for now.
Kinley Wangchuk