Indian PM arrives in the country
Aug 17, 2019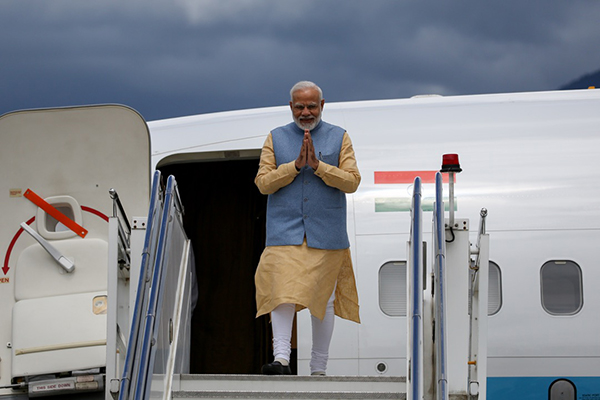 The Indian Prime Minister Narendra Modi is in the country for a two-day state visit. He was received by Prime Minister Dr Lotay Tshering at the Paro International Airport this morning.
Also present were the Foreign Minister Dr Tandi Dorji, Economic Affairs Minister Loknath Sharma and senior government officials and officials from Indian Embassy.
The Indian PM was presented a guard of honour. On his way to Thimphu from Paro, Indian Prime Minister was greeted by hundreds of students.
An official statement from the Foreign Ministry said that the visit is a clear reflection of the importance, Prime Minister Narendra Modi, attaches to relations with Bhutan and strong bonds of friendship and cooperation that exists between the two countries.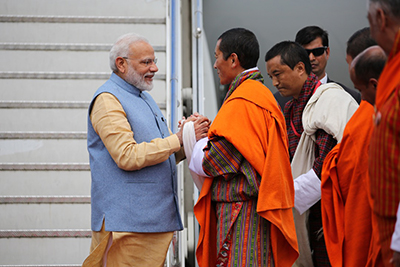 Prime Minister Modi will receive an audience with His Majesty the King later this afternoon. In the evening, the Indian Prime Minister will inaugurate the 720 MW Mangdechhu Hydroelectric project, South Asia Satellite, and RuPay Card. Further, several Memorandum of Understandings (MoU) will be signed between the two countries.
Later in the evening, the Lyonchen Dr Lotay Tshering will host a banquet in honour of Prime Minister Modi.
There will also be talks between the two Prime Ministers on all aspects of bilateral relations and international issues of mutual concern and interest.
Tomorrow, Prime Minister Modi will address the students at the Royal University of Bhutan's hall. Prime Minister Narendra Modi will also meet the Opposition Leader, Pema Gyamtsho (PhD).
This is the second state visit after his first visit in 2014. This time he is visiting Bhutan at the invitation of the Prime Minister Dr Lotay Tshering.