Power Purchase Agreement signed for MHPA
Passang Dorji, Thimphu

Aug 15, 2019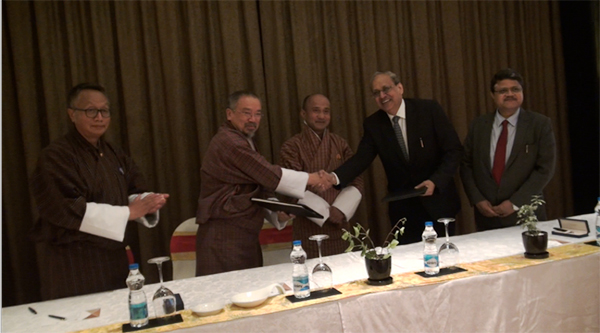 The Power Purchase Agreement for Mangdechhu Hydroelectric Project (MHP) between the Druk Green Power Corporation (DGPC) and the Power Trading Corporation of India Limited was signed in Thimphu, today.
Speaking at the signing of the Power Purchase Agreement, the Economic Affairs minister Loknath Sharma said that the much talked  Mangdechhu Hydroelectric Project Authority is finally commissioned.
"By today, I can say it is successfully commissioned because the one unit we had some issue will be done tomorrow. So, therefore, we have successfully commissioned and by now we already exported about 550 MW. So tomorrow will be the last day to make sure all four units are commissioned," Lyonpo said.
Exporting, approximately 3000 million units of electricity at the cost of Nu 4 and 12 chetrum per unit is anticipated to bring in a gross revenue of Nu 12bn per annum.
"So, what we are earning today in gross revenue from all the businesses that DGPC does, exactly that amount will come in from India. From the sale of electricity from Mangdechhu we expect the gross revenue will be about Nu 12bn," said Dasho Chhewang Rinzin, the Managing Director of DGPC.
With the official signing of the Power Purchase Agreement today, DGPC can now start billing the government of India for the export of electricity from MHP. Without the Power Purchase Agreement, bills can neither be raised nor can the payments be made between the two parties.
Currently, Bhutan generates about 7000 million units of power from the existing hydropower projects. Of which about 5000 million units of power is exported to India.
MHP will be officially inaugurated day after tomorrow by the Indian Prime Minister, Narendra Modi. The work on the 720-megawatt MHP began in 2011.