Traffic information during Indian PM visit
Samten Dolkar, Thimphu

Aug 15, 2019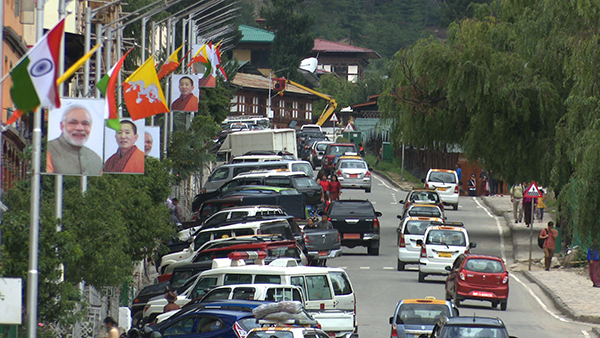 Prime Minister Narendra Modi's visit to the country has all the traffic and security intensified especially over Thimphu and Paro. Day after tomorrow, the Paro-Thimphu highway will be closed to traffic from 10 am in the morning.
Prior to Prime Minister Narendra Modi's movement from Paro to Thimphu,  the Thimphu – Paro highway will be closed one and a half hour before for medium/heavy vehicles and one hour before for light vehicles. After 30 minutes of his departure from Paro, the road will open for the public. Here in Thimphu, the way towards Tashichhodzong and Simtokha and, Olakha highway will be closed 30 minutes before he moves from one location to another.  Norzin Lam will remain closed for vehicles for the entire two days. No car will be allowed to park there.
Vehicles coming towards Thimphu from other places will be stopped at designated places of Namsaeling, Khasadrupchhu, Sisinang and Chudzom, and towards Paro at Uesuna if it falls in the traffic closure time frame.
For security reasons, the roadside shops and vegetable vendors along the Paro – Thimphu highway and other routes are strictly prohibited. Police request the hoteliers and locals to be cautious of tourists visiting the country and to immediately report to them if anything found suspicious. Strict monitoring will be carried throughout.
From 17th evening, the Memorial Chorten will also be closed for the public until the next day.
On 18th, the Thimphu – Paro highway will be closed from 12.30 pm. However, the traffic will be opened to the public in Thimphu after 30 minutes of his departure from the capital.