International Youth Day focused on relevant, inclusive and accessible education
Sonam Pem, Thimphu

Aug 12, 2019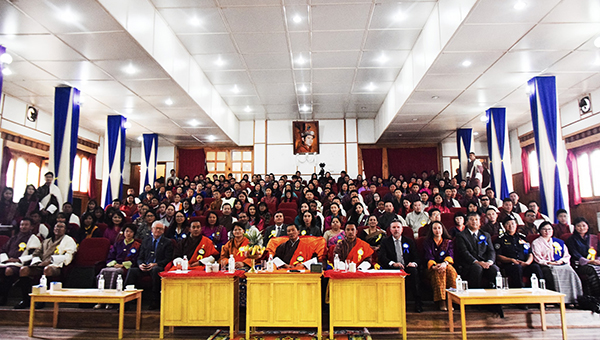 Celebrating the International Youth Day in the capital today, the event saw discussions on the need to make education more relevant, inclusive and accessible to all youth.
It highlighted that the present education system in the country needs to be reframed to the needs of the young people to equip them for their future. The Prime Minister, ministers, and senior dignitaries together with over two hundred youth attended the event.
The event brought together relevant policymakers and stakeholders to discuss the way forward in transforming education to the emerging needs of the youth. Prime Minister Dr Lotay Tshering shared some of his observations regarding the present education system.
"We have been saying that our curriculum is not relevant. We have been saying that time and again. Are we doing enough? We have almost 60 per cent of our university graduates as unemployed but whenever we ask for a job, we ask for ten passed, twelve passed or a graduate. We don't even go and dissect what kind of degree they have. That's why we have biology pass out working as human resource, we have humanities background working as HR specialists, we have history and geography honours working as PPD head.
"I thought that was not enough. If we are not able to solve the issues of unemployment, we haven't even talked about underemployment. Forget mismatch. Whenever we talk about the mismatch, we are always talking about the mismatch of the unemployed youth and job market. That is the obvious mismatch. But there is a huge mismatch among the employed. They are not employed relevantly," Lyonchhen said.
Moreover, in order to get new insights into the emerging youth concerns, a consultative workshop with young people was held prior to the event. About 45 youth from youth-led groups shared their challenges and recommendations regarding the education system in the country.
"First thing is reviewing the curriculum is very important. After class ten, students wander jobless, so I think diversification of courses after class ten is very important. And updating the content of the courses as per the evolving technology and development is very much important," Karma Wangda, the Founding President for Generation Y-Youth, said.
Meanwhile, the UNICEF shared the findings of the regional youth skills study. The study was carried out a couple of months ago to gather evidence on the state of the youth skill system and its integration in the labour market. The study showed that a substantial number of young people in the region do not have the skills to succeed in industrial service and high tech economy. And there are high rates of graduates unemployment.
The study recommended embedding new skills in the education curriculum that will make young people fit for the job market and enhancing technical and vocation training.