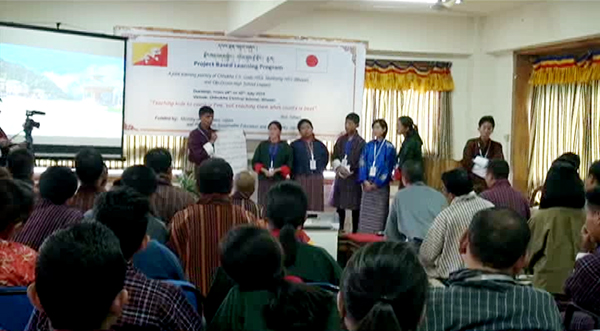 After the opening of the Damchu-Chhukha bypass in July last year, the Tsimasham town has almost dried up. The town, which was once a popular place for travellers to stop for lunch, now hardly gets any visitors. But now, the locals hope to attract tourists as a group of students work to promote the place, as part of their project-based learning. 
Around 30 students from schools in Chhukha, Thimphu and Japan recently visited the town for three days. The students went around filming the place scoping for tourist attractions. The clippings will be used to promote the town for tourists, especially from Japan. Although Tsimasham town rarely sees tourists, the students discovered a number of interesting attractions from the dzong and monasteries to cycling routes, hot springs, waterfalls and even homestays for visitors.
"This is my first time in Tsimalakha, I came to attend this project-based learning. I didn't know anything about this place before, but now I  know almost everything about the town. Similarly, if such projects are included in our curriculum, It will not only help tourist but will also help our students to know about our country better," Sherub Zangmo, a participant from Motithang HSS, said.
"After attending the course for the last three days, I learnt to edit pictures and videos. I am very happy because I could explore my community and promote it to the outside world," Ahasis Ghimiray, another participant from Chhukha CS, said.
The project organisers plan to conduct another programme to further strengthen the project.
 "We want to start another project to hold project-based learning here in Chukha from next year. This time we made movies for a website, next time we want to make guidebook on Chhukha especially for Japanese people," You Iwamotom, the Joint Representative of Platform for Sustainable Education and Community from Japan, said.
Chukha Dzongkhag Administration said the project is in aligned with the goals of the dzongkhag in promoting the region for tourists. The event was funded by Japan's Ministry of Education and Platform for sustainable education and community.