Bhutan expected to benefit as member of IFAWPCA
Komal Kharka, Thimphu

Aug 1, 2019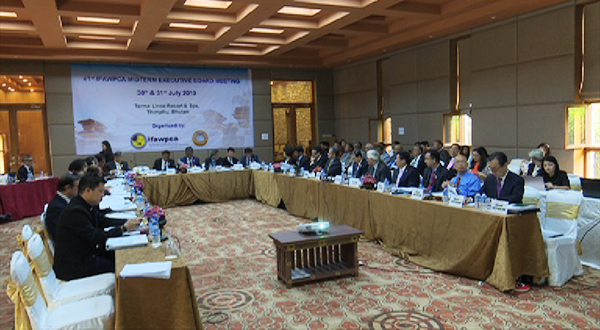 Construction Industry is the frontline of the economy in any developing country. For a small economy like Bhutan, being a member of International Associations has always been an advantage. Bhutan became the full-fledged member of International Federation of Asian and Western Pacific Contractors Association (IFAWPCA) in 2018. And as its youngest member, Bhutan hosted the association's Executive Board Meeting in Thimphu, which concluded yesterday.
This membership is expected to bring in huge future economic benefits to the country. The association provides a platform to exchange ideas, experiences, and construction technology amongst its members. Bhutan's potential benefits from the association are in  Mega Joint ventures, Foreign Direct Investments and employment.
"We will get opportunities to travel outside for businesses and they could come inside to do mega projects as joint ventures. This is where we will have more scope and opportunity to create more jobs, especially for our youth," Thinlay Gyamtsho, the President of Construction Association of Bhutan, said.
According to IFAWPCA President Mohamed Ali Janah, there is huge potential for Bhutan to collaborate with the international contractors and invest in various project. He said tourism development is one potential area where countries like Maldives and Bhutan could collaborate. He also said that the governments should be highly supportive and encouraging towards private sectors to flourish, which will ultimately benefit the country's economy as a whole.
"You have networking, you have investment opportunities, the doors are open for you to go to these meetings and conventions, so your contractors can present your investment proposals and represent your country. There are great opportunities for Bhutan being part of the association."
At present, there are 19 member countries in the association. The IFAWPCA was established in 1956 after the Second World War with a vision to rebuild regions devastated by the conflict.