Hydro-Pressure Sensor wins the best idea at innovation for disaster management workshop
Sonam Penjor, Phuentshogling

Jul 27, 2019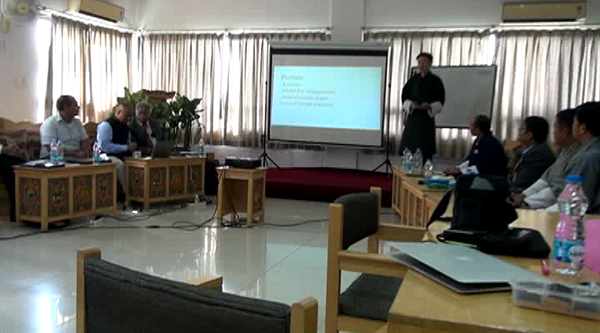 A device to check the water level in lakes and ponds, hydro pressure sensor won the best idea pitched at the workshop on innovation for disaster management at the College of Science and Technology (CST) in Phuentshogling. Thirty-five students and faculties from CST and Sherubtse College and CST took part in the three-day workshop.
Team 'quake responders' presented the business model on the hydro pressure sensor. According to the team, with Bhutan falling under the seismic active zone and also home to many potentially dangerous lakes, the sensors will benefit the country immensely.
To develop sensors at home, the team will take four years and if the sensors are imported, within two years time, the technology can be operational. For each model of sensor, the team estimated Nu 300,000. The team initially plans to make 100 sensors.
"Our team basically planned to make a device where we can sense the pressure of water. We can place the device in the lake, which can act as an early warning system. Whenever there is an outburst of a flood, there will be a change in the pressure in our device. We can then connect the device to early warning system so that we can warn the community living downstream," Jigme Tharchen, a Student of CST, said.
The sensors can also be used to check the water level at our homes.
Similarly, the business model for a device to study animal behaviour for disaster management won the second position. The project is estimated at US$ 110,000. If the project gets through, the team will take at least two years in studying, capacity building, developing app and promotion.
"We don't know whether it's myth or not but we want to find out. We didn't have any data, to begin with. So we had to start from the baseline. We may be wrong to predict natural calamities using animals behaviour but in doing so we can save lots of animals and even track lost pets," Jiwan Kuikel, a Student of CST, said.
The team says that this technology will not only save lives but can be used to promote eco-tourism. Participants were optimistic with their projects as the experts from India supported the ideas.
During the event, business models on landslide detecting system, water resource management, and natural disaster tracker apps were also pitched.
The event, which ended yesterday, was organised by CST in collaboration with Indian Institute of Technology Bombay.